When April Can Go Bad
---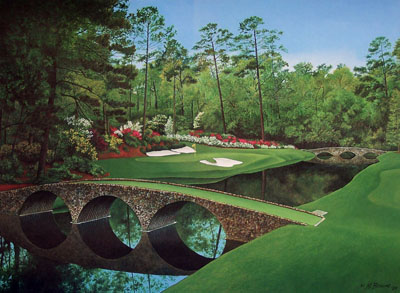 Masters week… a savored tradition among golfers. For the sport, there is hardly a more sought after ticket. For those without badges, CBS will have us all dialed in to watch what some call their "favorite major". Without question, we can all recall our favorite moments from the tournaments of the past – on a course that is hailed as golf's Holy Grail.
The Augusta National Golf Club was once merely a fruit tree nursery and produced enough flowering trees and shrubs to be sent all around the country. Indeed the site always possessed great beauty. The dramatic contours of the land, the lush, ornamental vegetation and babbling brooks – a perfect setting for golf in every respect. Bobby Jones thought so too, and collaborated with the great Alister Mackenzie to create an architectural masterpiece.
Unlike other courses, the ANGC has evolved through the years into more of a lush garden. In fact it was anything but for many years. Until the fairways were watered and the trees grew larger, the course was more "typical" than sensational. With the advances in maintenance and the capabilities of superintendents to literally work magic, Augusta has become Shangri-La, for one week each year, and it is on display for the world to see. Flowering dogwood and azaleas, bright white sand, deep blue water and… green. Everything is green. From the scoreboard stanchions, the trash bins, the bleachers, the collapsible chairs the patrons bring in…. even the wrappers on the pimento cheese sandwiches. Everything is deep, emerald green. And so is the grass.
Most don't realize that the green grass is actually an annual overseeding of ryegrass – it is temporary green. The base turf at Augusta is bermudagrass, which is a southern climate turf and possesses a much duller green appearance. The rye has to be slit into the ground several months before the Masters and will then give way to the Bermuda once the spring temperatures climb toward those of summer. But until then, the course is, well… very green and perfect?
"So what's wrong with perfect", one might ask? The only thing wrong with perfect is that it is essentially unattainable; except for a mere few in the world with perfect conditions and resources. But for one week in April each year, our television screens scream out to every golf course owner and operator and every green chairman and every avid golfer… this is the golf we love! Except we can't… and frankly, shouldn't. And any expectations along those lines are completely unfounded.
Unfortunately, sometimes the Augusta National Golf Club represents all that golf should NOT be. With the exception of that dreamy week in April each year, for what is perhaps the most exciting golf tournament in the world, our expectations of golf can become skewed. Word to the wise - go on enjoying the Masters for what it is – a rare and unique event – one of the great golf championships in the game – on one of the great courses in the world – a place of great beauty – a garden of golf. But let us not forget that Augusta is Augusta because it is as close to a dream as one can come in golf. There are plenty of other great brands of golf to be enjoyed, many of which are in our own backyards; real golf courses! We all know of holes that can provide just as good a test of golf - the conditions can be just as good (though markedly different), and the operational costs and fees can be a fraction of those at the "dream course". There exist countless accessible, affordable venues, many of which are lauded for their design excellence and superior conditions.
When I was a kid… I used to love watching the Masters on Saturday afternoon and then head out to the local course where I pretended to play my own version of "Amen Corner". And on a balmy, still afternoon in Robinson, Illinois it still felt to me like Augusta. I never won a green jacket, but I sure had fun just imagining what it would be like.
Today, as I watch the coverage, I am pleased to see just a bit of brown sneaking out from under the lush, green, ryegrass carpet – ah….bermudagrass! Spring came early this year – and sadly, there are no blooming azaleas and dogwoods. And, I'm okay with a little reality this year.
---
Post a Comment