My Time with Jackie Burke, Jr.
---
Each year, the American Society of Golf Course Architects conducts our annual meetings – always at a different venue. In April, we held our event at The Woodlands in Houston. Each day is a mixture of business meetings, continuing education, formal dinners and….golf.
Golf is always a welcomed activity by our members – imagine that! Some are very competitive and others, well – we just enjoy one another's company and a fun round. One of the benefits of our meetings is getting to visit and play 3-4, usually prominent or well-known, courses during the meeting. This year, we visited Grand Pines Golf Club, Carlton Woods and The Champions Golf Club. Because I had more 'business matters' to tend to this year (and a rather rusty game), I opted not to play. Rather, I visited and experienced the courses, but just by walking them without playing…and walking certainly has its benefits! Aside from the exercise, I think you get to study the course more effectively this way, without actually playing and not having to worry about your game or searching for golf balls. Instead, walking the course allows me the opportunity to really focus on the architecture and see the holes in their proper sequencing.
So even though it would have been fun to play, my day at The Champions Golf Club proved to be one of the more memorable in recent memory. After being greeted with a full breakfast at the clubhouse, our group was addressed by the co-founder and owner of the club, Jackie Burke, Jr. Yes, that Jackie Burke! Vardon Trophy winner, Masters champion… But then shortly after his welcoming introduction, our group scattered out on the course and began play. I followed through on my plan, just walking the course with several others…talking about the holes, about Ralph Plummer's design strategies and features, etc.… and generally having quite a nice time with my peers on a sunny day. My walk took about two hours, leaving plenty of time for me to nose around in the clubhouse to study all the old photos, etc. before the golfing crowd finished. And this is where my day took an unlikely, but fortuitous turn….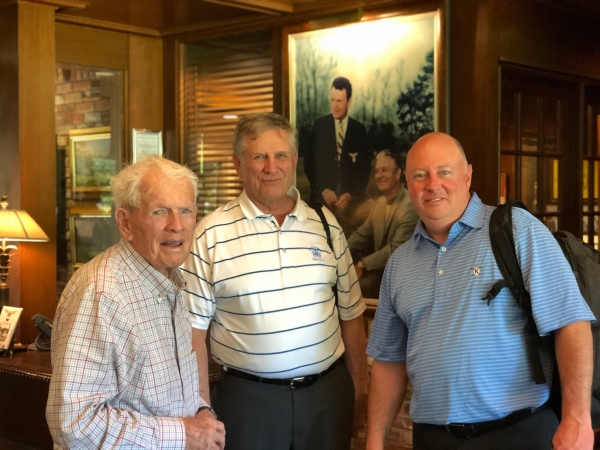 The clubhouse at The Champions isn't at all grand, in fact it is a rather simple structure, all on one level, built in the late 1950's. Of course, the club was founded and built in 1957 by Jackie Burke, Jr. and the late Jimmy Demaret, two of golf's most decorated professionals. Mr. Burke, now 95 years young, still comes to work at The Champions every day and runs the club as he has done for the past 61 years (Demaret passed away in 1983).
So as I quietly crept through the clubhouse hallways, a man appeared from a doorway – and of course, it was Mr. Burke. He stepped from his office and curiously watched as I continued to look at photos and maps on the walls. It was at that point I decided to turn and introduce myself and thank him for hosting our group… then I said, "Sir, I hope you don't mind if I have a look around, you have so much interesting history here." Mr. Burke said, "Be my guest, it's all here to be enjoyed." Then he took my arm and led me through a doorway, saying, "There's even more in my office, come on in."
For the next hour, I enjoyed an uninterrupted conversation with Jackie Burke, Jr. – just the two of us, in his office, surrounded by photos of celebrities (with Bob Hope, Frank Sinatra, Dean Martin, Sammy Davis, Jr., Buddy Hackett, Don Rickles, and more), trophies, golf clubs, books…even his green jacket. If I'd have known ahead of time that I would have such an opportunity, I certainly would have been more prepared – I would have asked many more specific questions and might have pushed into some edgier topics. But, as it turned out, it was just a comfortable, flowing conversation…just like I might have had with my grandfather. Here's some commentary I recall from our chat:
We talked about the founding of The Champions… how it came to be. According to Mr. Burke, it was always sort of the vision he and Jimmy (Demaret) had. They looked at several properties and ended up with this one. They wanted to have a course where the better players would congregate; where tournaments could be held and they hired Ralph Plummer to design it – he designed courses primarily in Texas.
Our conversation then turned to the golf course. I mentioned to him that the course had the character and feeling of something very mature – a course that had really not been re-touched or significantly renovated. Mr. Burke confirmed that was the case – that nothing had ever really been done to the course besides building a few tees, planting some trees and normal maintenance. "Most of the tees, the bunkers, the greens, the grass – it's all original", he said. He also stated that it was important to him during the original layout of the course that the corridors be cleared wide enough for strategic play, so there would be room for rough. He had an extra 30 yards cleared on both sides of each hole to accomplish this… as he really only wanted to only observe the trees without interfering with play.
I then asked him about how the USGA sets up courses for tournament play… as I have my own bone of contention on that subject – so I was interested to hear his position. Quick to the punch, Mr. Burke said it is frustrating to see what they're doing to the golf courses to prepare them for championships – making them so narrow and long…nullifying all the strategic qualities that come with their designed width. He then made a firm statement that the USGA is always welcome at The Champions , but that they are not allowed to touch the course or change it in any way – that it plays just fine as it is! Recall that The Champions has held a U.S. Open ('69), U.S. Women's Mid Am ('98, '17), U.S. Amateur ('93), and will host the U.S. Women's Open in 2020, not to mention the 1967 Ryder Cup and the PGA Tour Championship ('97, '99, '01, & '03). So, clearly, the course has certainly held its own without any help from the USGA and PGA.
Moving on, we talked about the fact that they were just starting to rebuild the greens on the course (in fact, the work was set to begin in earnest as soon as our group's round was completed!). Mr. Burke confirmed that the work on the greens was the first large-scale work that had ever been done there – they had to do something about the shrunken greens to get back the lost cupping areas. I asked him how he felt about that. He said he had been 'saving his money' for a long time and finally had enough to do the work – and suspected it was indeed time to get it done. I found his statement about 'saving up money' to be unusual, as most Clubs either finance projects like that or they assess their members to raise the funds. Mr. Burke affirmed, "We've never assessed members for anything here – not one penny!" He then followed that he thought so many private clubs today have it all wrong, trying to be too many things to too many people… focusing so much on things like food, fitness, swimming pools and tennis courts. "Those things detract from the golf and cause the club to carry unnecessary debt. You can't ever recoup that debt. They're all crazy!" he said. It was at this moment that I wished I had a tape recorder! Mr. Burke continued, "And you know, this whole thing with retirees these days… they don't have anything to do ,so they get on all these committees, this board and that board – and they try to run these groups as if they were their own businesses, during their prime…like they know everything about everything!" I sympathized with him, and he continued, "You do all of this design work in Florida – they even fly down every season to sit on those committees!" "Yes, they do sir," I replied.
After studying more of his office memorabilia, we took a little stroll throughout the clubhouse. At this point, watching him, I sensed that he might be just as proud about the clubhouse structure as he is about the course. Mr. Burke offered, "You know, when we started thinking about building this place, there was nothing out this way… just farms. Nobody was all that social with anybody else – just farmers. Then they started building churches, and everyone gathered in the churches – it brought people together." The he pointed to the ceiling of his clubhouse and smiled. The ceilings are high, vaulted, and open with beams… and lots of glass to let the color and light in. "People like to gather here too," he said. "They're comfortable here, and they're not overwhelmed like they are at all these monuments that clubs are building these days. This place is simple and it works," he continued.
At this point, we were joined by fellow golf course architect, Dr. Michael Hurdzan and John O'Donnell of Heritage Links, a golf course builder (who happens to be a long-time member of the club and was tabbed by Mr. Burke to execute the on-going greens renovation). Mr. Burke then grabbed Mr. O'Donnell's arm and said, "John's getting all that money I saved up!" We then posed for a photo and made our way to the front door where Mr. Burke stopped and pointed to all of the colorful flowers along the front walk. He said, "It's nice to have these beautiful flowers – they look so nice and proper here, but we don't need them on the course – they do just fine right here, don't you think?"
I'm only scratching the surface of details that were touched during our hour. I often revisit that conversation, thinking about other questions I wished I had asked. Still though, I learned a lot from Jackie Burke, Jr. in a very short amount of time. I figure if I don't ever have that opportunity again, I can always read his book, It's Only a Game. I think I might enjoy that!
Tags
Adjusting Course Length , ASGCA , Champions Golf Club , Course Design , Course length , Drew Rogers , Enjoyable Golf , Golf , Golf Business Models , Golf Course Design Trends , Golf Course Development , Golf Course Improvements , Golf Course Maintenance , Golf in Houston , Growing the Game , Jackie Burke, Jr. , JDR , North American Courses , PGA Tour , Renovation and Restoration , The Masters , USGA , Why Golf is Fun , Width and golf ,