MacKenzie Meets Augusta One Last Time (The Big Finish)
---
Having nearly completed the back nine tour, MacKenzie was regaining his humor, at least somewhat, and seemed to be tiring a bit as they finished at #16.
To #17 now, where MacKenzie spouted, "That wonderfully formed pine is gone, I assume you had it removed at some point, Mr. Payne?"
"Absolutely not, sir. That tree came down in a storm a few years back. It was named after President Eisenhower," explained the Chairman. "Who? At least you had the decency not to name the tree after an animal!" joked MacKenzie.
Now, clearly becoming weary, Dr. MacKenzie didn't even bother to remark about the added length on #17, or the tall grass and the added bunkers here. I think it was at this point he started to resign his value to Mr. Payne and the evolved Augusta National. And forward they climbed, MacKenzie still leading, up the 18th, where changes have indeed been made, many of which echo the others he witnessed during the day.
"It's still a very beautiful place, Mr. Payne – few courses are more stunning to the eye than this one. And this 18th is a great ending test (as is the 9th) – going up the hill to the green like this will undoubtedly determine a fine winner for your annual event." Mr. Payne obliged and offered a courtesy lunch to the Mr. MacKenzie. "That would be lovely", he said, "but I think this walk has taken its toll on me today. I think I'll need to be moving along – thank you."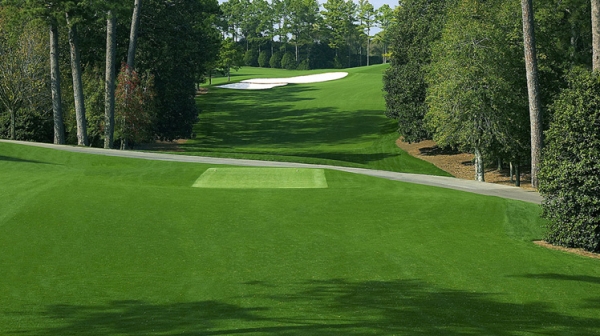 The 18th tee at Augusta National
As we gathered in front of the clubhouse, MacKenzie turned to thank the group. Mr. Payne pulled MacKenzie aside and told him what an honor it was for Augusta National to host the return of it's grand architect. "Your work here is held in the highest regard, Mr. MacKenzie. We strive to honor your efforts, and those of Mr. Jones each and every day at Augusta National. We're very proud to be considered among the top courses in the world, an indication of what you crafted here and that that we've evolved in a responsible way. We also feel strongly about promoting the growth of the game and our specific interests here relative to championship golf, amateurism and our mission here at Augusta National, as authored by Mr. Jones."
Distracted somewhat by the comment, MacKenzie whispers back curiously, "These claims are made by whom, Mr. Payne - this odd nonsense of being one of the best courses as determined by whom?"
"Well, raters and writers and many valued opinions in golf," Payne replied. "Raters? What are raters and in heaven's name and what do they possibly know about architecture unless they have undertaken work of their own? After today, I'm even more concerned that our approach here has escaped all who have touched this ground. I'm now truly fearful of what I will see elsewhere on my journey," he continued.
"Golf is a mental test, Mr. Payne, and this course was envisioned with articulated subtleties and balance to test the best players on a given afternoon, but also provide a palatable exam for the less gifted golfers as well. I'm not foolish enough to think that advances have not caused the need for some change and adaptation, but what I saw today bares frighteningly little resemblance to the course that I collaborated to build with Mr. Jones. I'm saddened to see that the landscape here has become so loosely adjustable for Augusta National… that is most disheartening."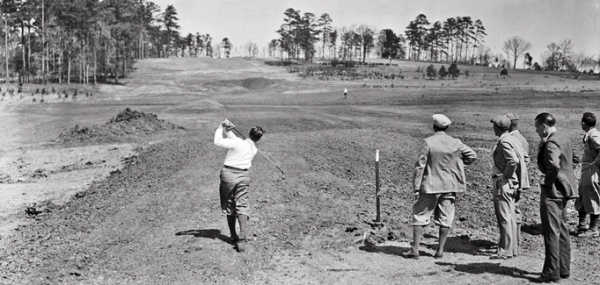 Jones and MacKenzie sorting out the design of the par-5 8th MacKenzie leans into his seat in the car and offers again to Payne, "Augusta National is now more beautiful than I ever could have imagined. I wish you the best with your raters and your guests here next month. You have succeeded in providing them with what they apparently want – I cannot argue that point. But I've probably worn out my welcome. Thank you for allowing me the tour."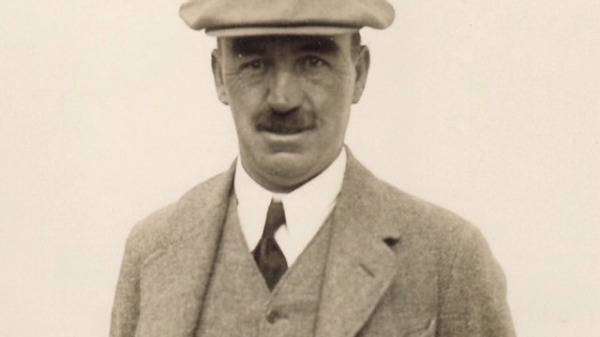 The Good Doctor - Alister MacKenzie MacKenzie continued, "Now, I'm off to see my friends in Michigan, then California, a long journey to Australia, back to England, and then finally to St. Andrews. I would like to end it all there. Fitting don't you think, Mr. Payne?"
The door closed and away went Dr. Alister MacKenzie for his definitive, final departure down Magnolia Lane.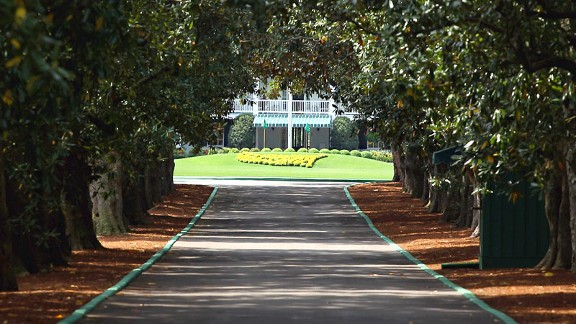 Magnolia Lane
So, is this the way things would really play out? Who the hell knows! It's fun to wonder, though.
Mr. Payne certainly did not deserve to take the brunt of MacKenzie's criticisms, but he is the man in charge, after all.
Maybe MacKenzie would find things more favorable than this…be more accepting? Maybe he would be more reluctant to comment? On the other hand, he might also be even more discouraged and vocal?
I just thought it might be entertaining to consider…what if? We'll never really know… but maybe it is good to try to think like MacKenzie might… we could learn a thing or two.

Tags
Adjusting Course Length , Alister Mackenzie , Augusta Country Club , Augusta National Golf Club , Australia Golf Courses , Billy Payne , Bobby Jones , Bunker Renovation , Bunkers , C.H. Alison , Classic Courses , Clifford Roberts , Course Design , Course length , Course Rankings , Cypress Point , Design Elements , Drew Rogers , GCSAA , Golden Age of Golf Architecture , Golf , Golf and the Landscape , Golf Course Architecture , Golf Course Design Trends , Golf Course Improvements , Golf Course Maintenance , Golf Technology , Greens speeds , Growing the Game , H.S. Colt , Hazards in golf , JDR , North American Courses , Old Course - St. Andrews , Par 3 Courses , Perry Maxwell , PGA Tour , Renovation and Restoration , Speed of Play , Stoke Poges , Strategic golf , Strategic Options , The Masters , USGA , Width and golf ,