MacKenzie Meets Augusta One Last Time (Front Nine Tour)
---
I had a dream last night. Well, I'm pretty sure it was a dream… Here's the gist: Alister MacKenzie is not dead. He's been hiding away in a Tibetan monastery since 1934, the date of what we had presumed to be his death. So deep and powerful has been his inward reflection all these years, he has not aged — and he is completely unaware of what's happened outside the walls of his spiritual retreat. During his 82-year absence from golf and the world, MacKenzie has never once taken notice of The Masters, for example.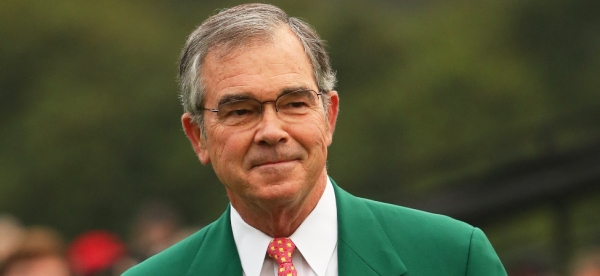 Chairman, Billy Payne
But now he's back and his first experience with an iPhone was a call placed to Chairman Billy Payne, the Augusta National Golf Club member who presides over all things Masters, including the tournament itself, course renovations year-to-year, course set-up, etc. MacKenzie requested a tour of the course, and who is Billy Payne to refuse him?
At Augusta National, MacKenzie and his client, Robert Tyre Jones, orchestrated a clearly defined plan and collaborative result. While the original course routing remains very much intact today, the nines were switched in 1934, because of the impact of frost delays at Amen Corner. From that point forward, the change has been almost continual.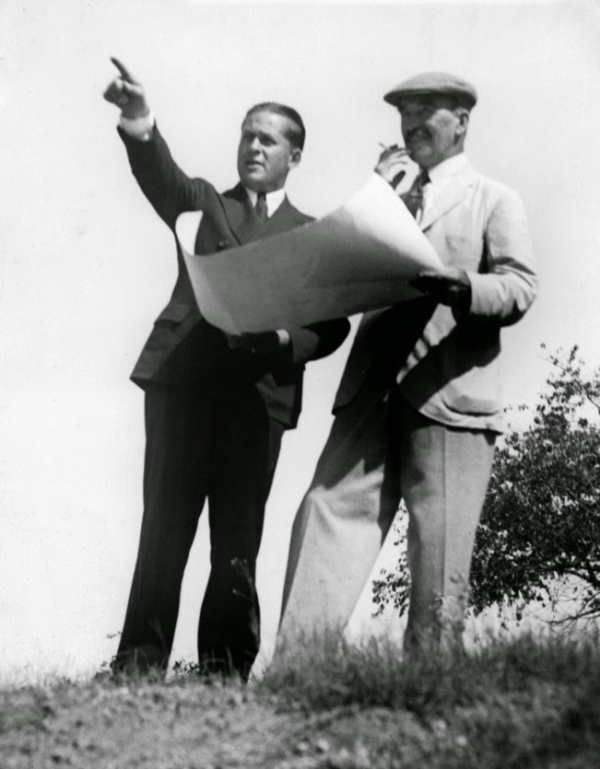 MacKenzie here with Bobby Jones at Augusta Having met his plane, I provide Dr. MacKenzie a capsule version of the last eight decades at Augusta National. It seemed imprudent say anything further. We talk instead of Cypress Point, World War II, Moortown, Lahinch and Britain's National Health Service. It is late-March as we turn onto Magnolia Lane. There at the clubhouse, we are greeted by Chairman Payne, as he prefers to be addressed, and a small group of member dignitaries, who casually join our walking tour of the course. Our remarkably well-preserved Yorkshireman is clearly struck from the outset by the awesome beauty of the former nursery.
"This view… the elegance — I remember this well, a sight to behold, Mr. Payne." After a lemonade on the veranda, as our group meanders toward the first tee, I scrutinize MacKenzie closely. He nods at the placement of those tees — and fairway bunkering in the distance. Payne sees this, too, and explains what the average driving distance is today, in the 21st century, and what the club must contend with as stewards of today's Augusta National. MacKenzie's eyebrows rise distinctly, just for an instant, before resuming an expression of imperturbable architectural probity. We press forward, up the hill.
At the green, he strays from the group and carefully studies the surrounds. Something clearly does not set well with the Good Doctor, but he says nothing, his company says nothing, and the walk continues.
At the second, he looks behind him to find the new tees, pushed back some 50 yards. He walks on, takes account of the fairway bunker on the right (added in 1966) and those that were removed on the left, but continues without comment. Halfway down the hill, he stops, looks back and inquires, "The green has been changed, as has the bunkering?" Payne and the assembled begin to answer but the architect walks away, muttering something unintelligible. His was a rhetorical question apparently.
MacKenzie continues to stalk the front nine for several more holes, talking more to himself than to his hosts (mostly about the unbelievable perfection and tidiness of…not to mention the modification of, pretty much everything)… until they reach the 7th. From behind the green he states flatly: "You've taken a strategic short hole here and… I don't know what you've done. It's what, 445 yards now, according to this card? My God. Too long and much too narrow. Surely Perry did not have a hand in this — he knows better!"
Mr. Payne responds: "Yes, Mr. Maxwell helped us here back in '38, I believe, mainly with the green. But the length was, in large part, added later."
MacKenzie seems not to have paid much attention to this answer, blurting out, "The hole could use an axe, Mr. Payne. It's not a forest preserve, it's a golf course!" Payne doesn't take kindly, but says nothing, out of respect.
They march on.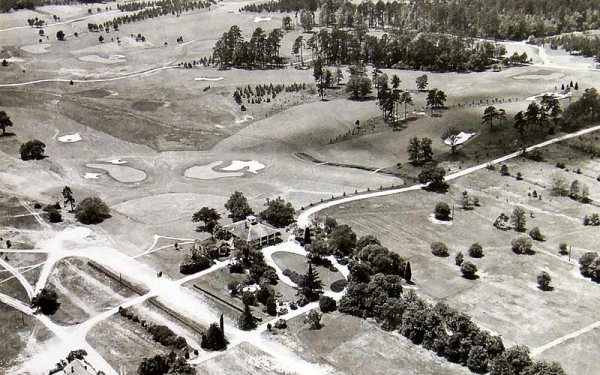 Aerial view of AGNGC - notice the green at the 9th
At the 9th, they reach the green and MacKenzie simply shakes his head and glares. The horseshoe configuration that he applied at Crystal Downs (and at his University of Michigan design) is nowhere to be seen. "I appreciate the added length here, Mr. Payne. The downhill influence that you are trying to retain, that is a wise compromise given the flight of today's ball, apparently. Thank you at least for that, but the green here has been conventionalized. It's a damn difficult surface, but now has the personality of a tree stump. Why? Did Mr. Roberts* pressure Perry into changing this one as well, Mr. Payne"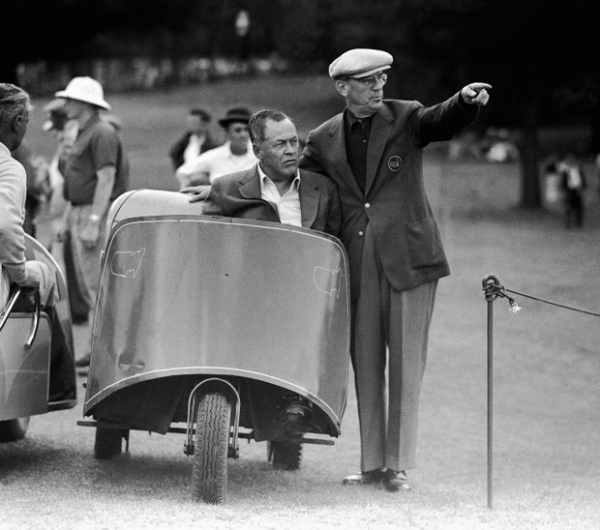 Roberts with Bobby Jones at Augusta No response was offered, for the Good Doctor had already lit out, up the hill, the 10th tee… not even a pause for a pimento cheese sandwich. The mood had clearly turned very tense and MacKenzie was clearly holding court.
Later in the week, we'll cover the tour of the back nine and finish to the tour… and that is not to be missed. Doctor MacKenzie is becoming more noticeably perturbed as we go and not much in a frame of mind to listen to anyone's arguments or explanations. Are his concerns valid?
*Clifford Roberts served as the Chairman of Augusta National Golf Club from 1931 until 1976. It was well known that he and Dr. MacKenzie saw things very differently as the design and construction of the course was originally administered.
Tags
Adjusting Course Length , Alister Mackenzie , Augusta National Golf Club , Billy Payne , Bobby Jones , Bunker Renovation , Bunkers , Classic Courses , Clifford Roberts , Course Design , Course length , Course Rankings , Cypress Point , Design Elements , Drew Rogers , European Courses , Golden Age of Golf Architecture , Golf , Golf and the Landscape , Golf Course Architecture , Golf Course Design Trends , Golf Course Improvements , Golf Course Maintenance , Golf Technology , Greens speeds , Hazards in golf , JDR , North American Courses , Old Course - St. Andrews , Par 3 Courses , Perry Maxwell , PGA Tour , Renovation and Restoration , Short Par Fours , Strategic golf , Strategic Options , The Masters , Tournament Golf , USGA , Width and golf ,