Lake Zurich A Brand of Golf All It's Own
---
I've certainly enjoyed my share of "perks" while working in the golf industry. And while work often supersedes many of the opportunities presented, once in a while I get to take in some really unique golfing experiences. One such opportunity came about this past season when I was invited to visit Lake Zurich Golf Club in the north suburbs of Chicago. I had heard rumblings, but really knew very little about the place. Much to my surprise, LZGC isn't just any other ordinary golf club – this place is completely in a world of its own!
Lake Zurich Golf Club was founded in 1895 as a retreat of sorts for a group of Chicago lawyers and professors. It's a hard place to describe, frankly…highly esoteric, very obviously eclectic, but also rooted firmly in tradition. Clearly the members here, past and present, have gathered here because they have a slightly different set of priorities and expectations than those belonging to most private golfing clubs. And there's only about 35 of them… so a pretty unique group to say the least. I say, "unique" loosely - a word that seems appropriate but also remarkably inadequate when describing the LZGC experience.
Like in 1912, when the club was at risk of succumbing to the progressive routing of the Chicago North Western Railway. After news broke, four cadavers went mysteriously missing at Chicago's Rush Medical School. Soon thereafter they were respectfully buried on club grounds, tombstones were placed and LZGC was promptly re-zoned as a cemetery, thus saving the site from condemnation. That happened. You can't make this stuff up, folks!
LZ's golf course is really only part of who they are, though it is a fine layout fashioned by Scottish golf course architect James Foulis and his brothers. Foulis was referred to the club by C.B. McDonald (of Chicago Golf Club and National Golf Links of America fame). It's only nine holes – and stretches roughly to 2,800 yards. The greens are small, the holes are well fitted to the terrain and there are classically designed features of subtle deception all about. Conditioning is not as high a priority here as at other clubs… in fact there is only a single groundskeeper and a few part-time helpers. Until recently the course was primarily managed by sheep. The greens are rather shaggy and slow… fairways are, well… shorter than the rough. And the rough? It's all part of the charm. It's not as unruly as it sounds, as members also regularly volunteer to do their part… shouldering weed eaters, trimming trees, installing drainage and pretty much anything else that the caretaker needs a hand with. Ultimately, the job gets done.
To me though, the course was sort of secondary to the experience. After the round, we were invited into the clubhouse for a lovely lunch on the back porch, overlooking the actual Lake Zurich – no hats and no shoes, please! The place is more like a lodge or a grand cottage than a clubhouse… a comfortable and masculine sort of environment, with warm colors and treatments, bold red carpet covering creaky floors, moose heads, a grand fireplace and walls covered with eclectic art, including original work from past member & cartoonist Chester Gould, the creator of Dick Tracy.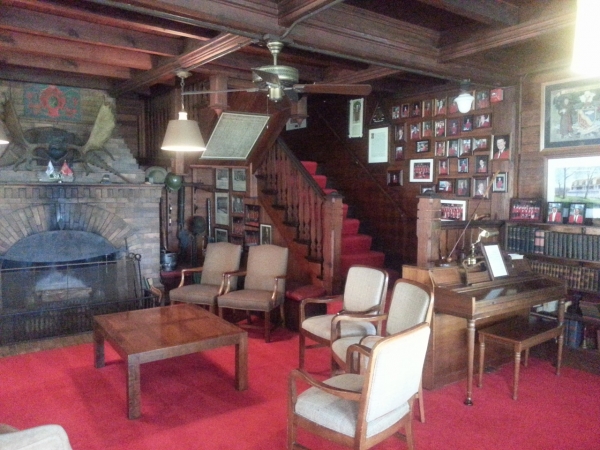 LZGC's cozy, hunting lodge character.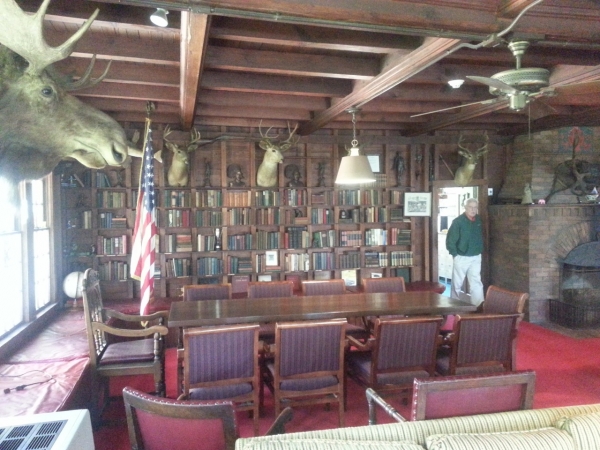 More of the same.
We were given a tour of the "lodge" by our host, Mr. Robert O'Connell, who is the current historian of the club as well as Captain of the Greens. Both of his held positions are high honor at LZGC. Mr. O'Connell dazzled us with stories and lore of the Club and of the lineage of unique members and events spanning over 100 years. We toured a few state rooms on the second floor which are "earned" through status and tenure in the club – if available, the small bedrooms are typically borrowed by other members who might be best to 'sleep it off' after dinner before venturing home. Some even believe the house is haunted…especially the attic, where noises are regularly heard and objects are believed to have moved on their own. Members have their own, preferred stash of liquor and wine in the bar. They all wear red blazers for formal meetings and dinners. The members honor a patron Saint – St. Barnabus, said to be a golfer from the 1st century A.D. At more than one point during my visit, I was left thinking, "Is this place for real"?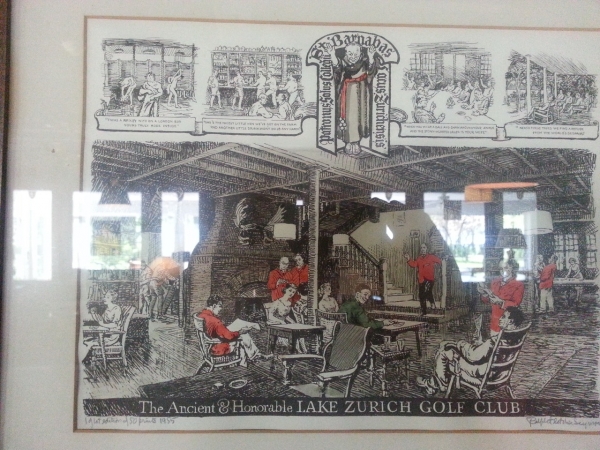 Patron St. Barnabus of Lake Zurich. Back to golf… after all, this game is what brought this place to life in the beginning. I think you have to appreciate golf in its purest form here…in ways that I certainly value and love – LZGC was a breath of fresh air for me. As such, members have no handicaps and the scorecard recognizes both bogey and par, noting that when the game was originated, "bogey" was believed to be the ideal score. Golf here is more about the enjoyment - the cameraderie... dare I say "fun of it"?
Lake Zurich GC is not without its share of local rules either – surprise! For example: weeds and dandelions growing on the putting green may be plucked without penalty…and there is no such thing as a lost ball at LZGC. As one story is told - a lost ball will surely be pocketed by another member at some point, in which case it becomes a stolen ball… and there is no penalty for a stolen ball. But if you do find another member's ball, you're encouraged to place it in the glass bowl in the clubhouse where it can eventually be retrieved by its rightful owner. And if a putt stops close enough to the hole that it could be blown in – then go ahead and "blow it in". And a ball that is sliced or hooked into the rough shall be lifted and placed at a point equal to the distance it carried into the rough – as a player should not be penalized for the erratic flight of his ball! Another member stated that losing one's ball is penalty enough as it is!
The odd rules and traditions of golf here seem to run on and on – and you know what?... they certainly fit! About the course one will also notice more than a few odd follies and ornamentation as well… eclectic statues and barnyard figures. There is even a bright pink bench prominently fixed near the 8th tee where Marilyn Monroe once sat and admired the beauty of the view. There is a fence along the right border of the 9th hole where access beyond the fence (to fetch a ball) can only be gained by going through a gate… a gate that was designed and given to the club by longtime member Daniel Burnham, one of the most prolific building architects of all time – and designer of the 1933 World's Fair in Chicago.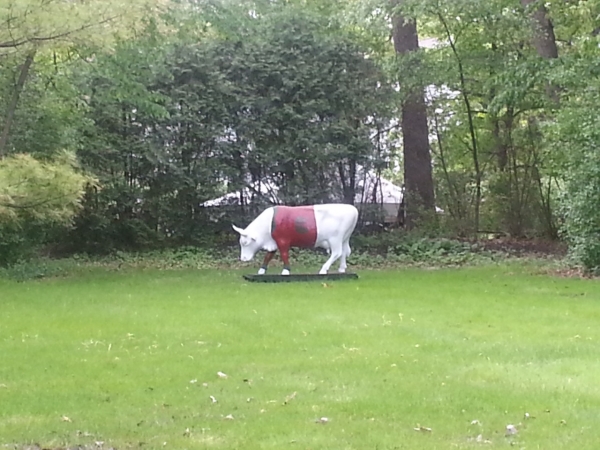 One of many odd sightings on the golf course. I had quite the visit to Lake Zurich – and can't even begin to recall all of the amazing stories I heard. Great fun, wonderful people, tasty food, warm hospitality and the most pleasurable game of golf imaginable. My face hurt from smiling so much, and my head was spinning from all that I saw. I couldn't help but wonder… is this really not the game we should all be enjoying? What if we did?
So as I retreated to my car to depart, Mr. O'Connell offered gracious pleasantries and an open welcome to return… and then said, "I knew immediately that you weren't a member when you arrived". "Why is that?", I inquired. He replied, "Well, because you didn't back your car in to your parking spot". Naturally, I inquired as to why, then, do members 'back their cars in'? The answer was simple enough… that, "after spending a long day here at LZGC, backing one's car out sometimes leads to bumping into things… other cars, members, etc., so better to back in"! And so it is. I have intentions to return as a guest in coming months – hopefully to one of the formal dinner affairs. If I do, I certainly intend to back my car in like the members do!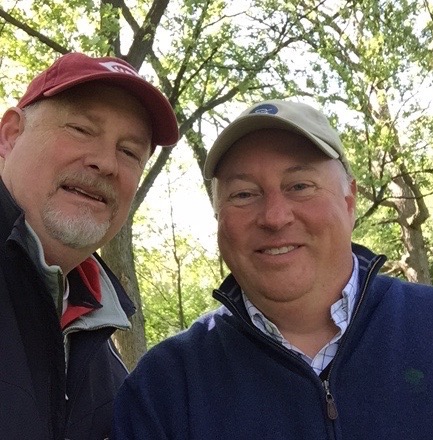 Candid moment with Capt. of the Greens, Robert O'Connell

Tags
9 Hole Course , C.B. Macdonald , Chicago Golf Club , Chicago golf courses , Classic Courses , Course Design , Daniel Burnham , Enjoyable Golf , Environmental Golf , Golf , Golf and the Landscape , Golf Course Architecture , Golf Course Maintenance , Greens speeds , James Foulis , Lake Zurich Golf Club , Making Golf More Fun , National Golf Links of America , Non-Traditional Golf , North American Courses , Why Golf is Fun ,