My Daily Journal from England - Day 10
---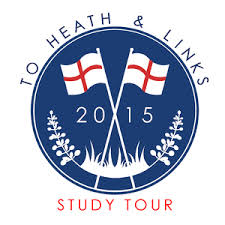 I'll be the first to say, ten days is a long trip. I'm weary and anxious to return home. But this has been an absolutely magnificent journey - a once in a lifetime type of experience for me. Ten courses in as many days… and they're starting to all run together a bit! Today, our final day… we visited St. George's Hill - yet another effort led by Harry Colt. SJH was built in 1913, the same time as Old Elm Club in Chicago where I happen to consult. Colt, however, must have spent most of his time that year here in England and at St. George's Hill, which is why Donald Ross was retained to execute Colt's plans and the construction at the same time in Illinois.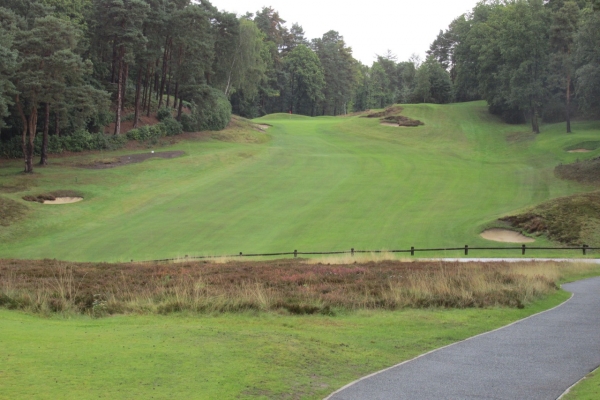 Quite a majestic opening hole at St. George's Hill. The original green was up on the right! Unfortunately, our golf was rained out today… heavy rains overnight left the course extremely soggy. So that was a real shame. But we still took the opportunity to tour the course on foot and were treated to the company of consulting architect Tim Lobb and consulting historian and writer, Adam Lawrence. They were kind enough to share their time and knowledge as it concerns St. George's Hill - they've been working on a program for the on-going management and improvement of the golf course now for about three years.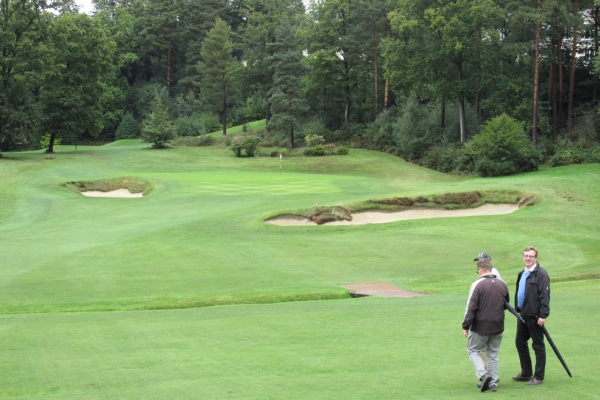 Colt does such a nice job fitting bunkers into landforms, like these on the 2nd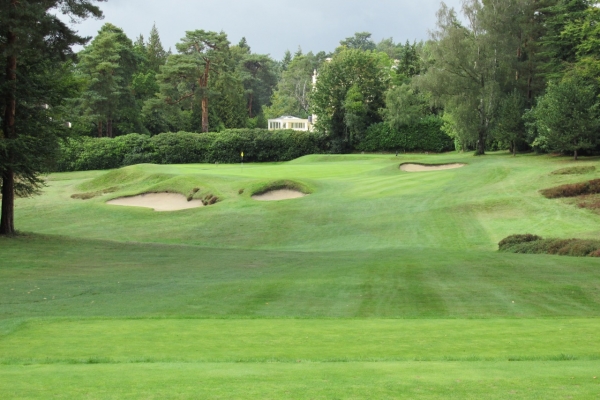 Really a magnificent par-3 3rd hole, benched very nicely on the hillside We found the course quite delightful… and what we have come to expect of Colt's work here. Great variety and use of the terrain - and a very photogenic course. The bunkering placement is quite good and the greens have more movement than most Colt courses I've seen. As Tim Lobb pointed out to me, many of the greens have a central ridge… something I've not seen from Colt before. The course is a par 70 at 6541 yards… still though, 6 par-4's are over 400 yards. There is also terrific variety among the par-3's. A hole that really intrigued me was the short 4th… a drivable par-4 with a huge green protected on all sides by bunkers. It just has that "come on, and hit me" challenge… as it's only 272 yards long. The green is smartly contoured, so being on the proper segment with the pin is important to avoiding a 3-putt. But unlike some short fours, this hole is all out there for the taking… and I suspect most everyone takes a shot!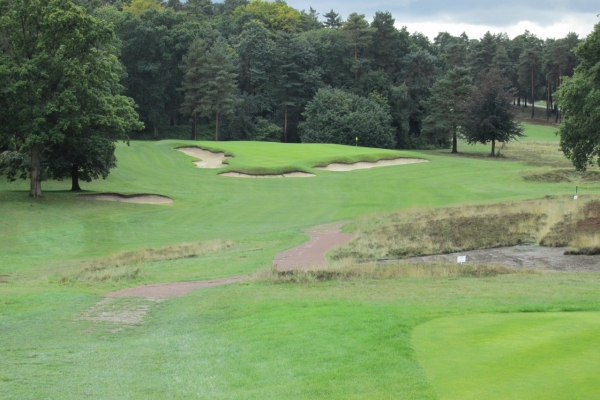 The short par-4 4th, 272 yards - the hole I most want to play - and who wouldn't?! Another hole of note was the par-3 8th… a hole I had been keen to see. The hole is 179 yards long, but the green complex has been tinkered with quite a bit since it was built... mainly the bunkering and also the inclusion of paths. We looked at old photographs in the clubhouse which reveal, in my opinion, a much more dynamic composition when it was originally built…especially the bunkering. The hole also features what is essentially a bail-out on the right side of the green… an area that sets below the green surface, but is a flat deck that serves as an appendage/approach to the green. It is referred to as "old man's plateau", suggesting that older players who are unable to reach the green on the fly tend to aim at this bit of ground just near it and try to recover from there.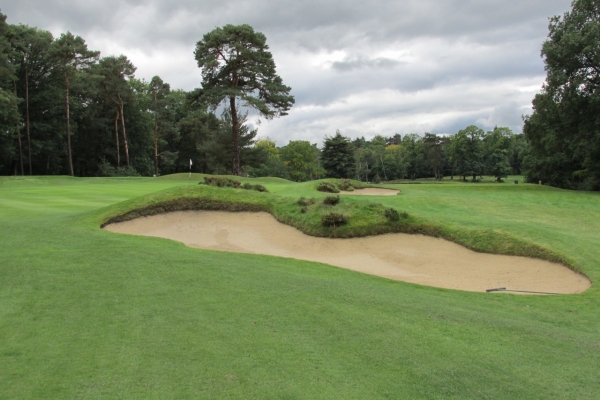 Gorgeous bunkering on the 7th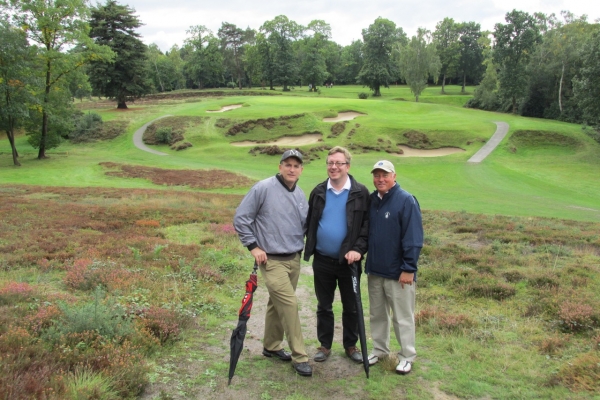 The famous par-3 8th, with the 'old man's plateau" on the right. I was joined by R. Mandell, A. Lawrence and T. Lobb (photographing)
One of the highlights of playing St. George's Hill is the view back up the hill to the grand clubhouse - certainly one of the most dramatic anywhere in golf. Also impressive is the surrounding residential community - one of the first of its kind in England. The residences are, believe it or not, just about as grand as the clubhouse!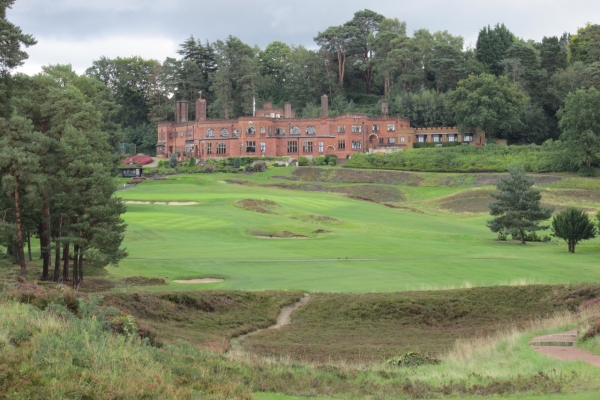 The view up the 9th to the clubhouse St. George's Hill may have a bit more terrain than Swinley Forest or Sunningdale… but it's likely more similar, I suppose - and ideal at that. And like Swinley, the heather at this heathland course seems to be in check as well. There is ample width to play, or at least one side to strategically favor over another. There is on-going efforts to regenerate heather on the course as a means of preserving the heathlands region - but also a realization that a golf course must also be playable. Tim and Adam are continuing work in this area to balance golf with the heather and rhododendrons, to tend to the aging bunkers and many other matters as they guide the next generation of this fine course… and there is a terrific opportunity for them to continue to make it even better. I look forward to seeing it again sometime… and actually play it!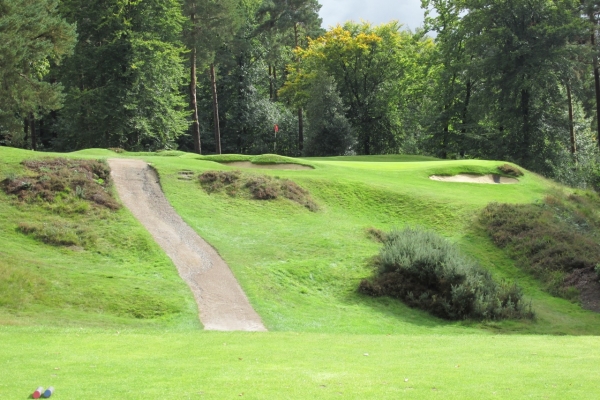 The 11th, a 119 yard par-3
"By a merciful dispensation of
Providence, fir trees, sand and heather, which are beautiful things in themselves, are the ingredients from which inland golf courses should be made. The prettiest courses are also the best, and certainly one of the prettiest and best is St. George's Hill" - Bernard Darwin
Tags
A.W. Tillinghast , Architectural Study Tour , ASGCA , Bunkers , Design Elements , Donald Ross , Enjoyable Golf , European Courses , Golf & Travel , Golf and the Landscape , Golf Course Architecture , Golf Course Improvements , H.S. Colt , Heather and gorse , Heathland Golf , Herbert Fowler , Huntercombe , James Braid , Links Golf , Renovation and Restoration , Royal Cinque Ports , Royal St. Georges , Short Par Fours , St. Enodoc , St. Georges Hill , Strategic golf , Strategic Options , Sunningdale , Surrey , Swinley Forest , The Berkshire , Tom Dunn , Tom Simpson , Walton Heath , Width and golf ,