My Daily Journal from England - Day 9
---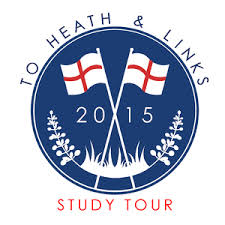 This tour was all about "Heath & Links" and I'll say we certainly followed through accordingly! Yesterday we saw two more links (Royal North Devon and Burnham and Berrow), but we're now back again in the heathlands of Surrey for the final stretch. This morning we visited Woking Golf Club, designed by Tom Dunn (1893). Our main focus was to view the par-4, 4th hole which features some very well documented, strategic bunkering including the central positioned 'principal's nose'. The great thing about a hole like this one is the many options available to the player off the tee - all afforded by ample width and a well routed corridor - and properly positioned obstacles.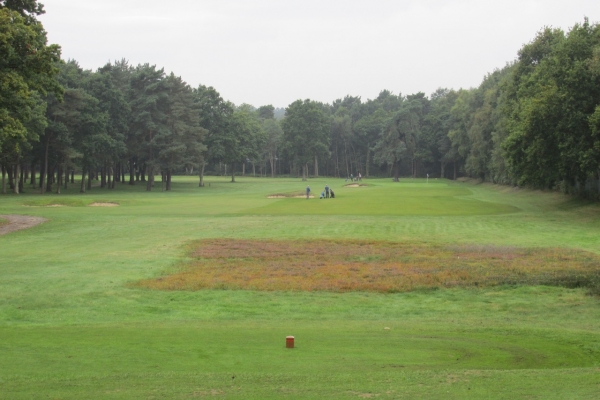 Tom Dunn's masterful 'principal's nose bunkering here on the 4th
Woking seemed to me more of a parkland course than any others we've seen on the trip, though there was some heather out there to justify it's accurate designation… it just wasn't oppressive like some others we've seen. The course looked fun and playable… very playful green surfaces and some beautiful, yet simple bunkering. I particularly enjoyed seeing the 14th green which rests directly (maybe 3-4') against the clubhouse back patio… and the pro says that the patio is entirely 'in play', but that the golfers DO NOT take priority on the patio! He went on to tell a few enjoyable stories about past encounters there. The clubhouse is special - small, charming and quaint… more like a cottage…beautiful. I was sorry we didn't have enough time to play Woking on this trip, but it will certainly be on the itinerary for next time!
From Woking, we jumped over to Swinley Forest Golf Club (1909)… highly touted and rightfully so, in my opinion. Of course, the architect here, Harry Colt, considered Swinley to be his "least bad course". I shall second that! Honestly, it's a real work of art and one course that I have longed to see for some time. Having devoted the last five years toward resurrecting Colt's design intent at Old Elm in Chicago, I was quick to recognize more than a few of Colt's tendencies. His foreground bunkering is masterful… so illusionary… so effective in framing the strategic values on each hole. Nearly every hole had an angled fairway… and if you have not gathered by now, I LOVE THAT! A thoughtful routing normally allows ample width for holes to be angled (if an architect so chooses) and Colt certainly did here. I suspect that he did at Sunnigdale as well, but those qualities have now been compromised by heather.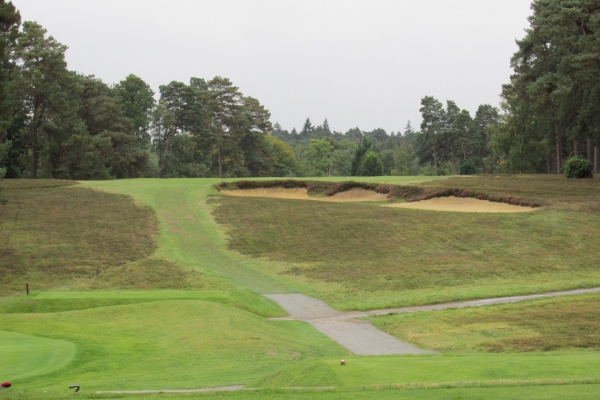 The par-4 2nd at Swinley… and nearly every par 4 had an angled fairway and an inside turn directional target (bunker or other forms)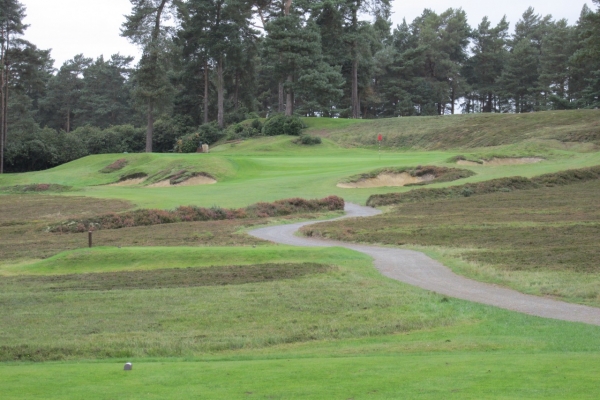 The par-3 4th… what a sweet hole and the first of five 3's on the course.
Bare in mind that Swinley, with all of its fame and greatness in golf… is a 6249 yard par 68. It played forever longer than that, I can assure you! There is only one par five, five par threes, and 7 of the 12 par fours are over 400 yards… and quite a few of those are uphill! Colt devised quite an array of green complxes and surfaces here... bold in places (like the 16th) and very subtle elsewhere... but always in complement to the overall design intent from the tee and fairways. And maybe here's the most impressive fact about Swinley… when considering the other heathland courses we've played (Sunningdale, Berkshire, & Walton Heath), the heather here was entirely playable due to placement, management and what looked to be a long, purposeful effort to retain proper fairway widths as they had been originally designed. This course was tough, but also very fun and playable… BIG difference! Looking back, I can't say the same for Sunningdale and Berkshire….and Walton Heath fits sort of just behind Swinley on this matter. But as an architect, I think it's a really big deal… as I cannot begin to imagine that either Colt or Fowler intended for such penalty to be inflicted in their designs elsewhere by heather. Swinley Forest provides the perfect balance and represents a very well preserved Colt design. I noticed that there were some new tees that have just been constructed throughout the course. Their locations seemed appropriate… but some of the construction seemed a bit clunky and lacked detail and vision… and that might be the only negative I can come up with for this fine course. I'll take another round at this one next time… maybe the rain will give way to sunshine!
Tomorrow is St. George's Hill… yet another Colt masterpiece (1912). Then back home again to my family and my work… both of which I miss!!
Tags
A.W. Tillinghast , Alister Mackenzie , Architectural Study Tour , ASGCA , Bunkers , Burnham & Berrow , Classic Courses , Course Design , Design Elements , Donald Ross , Enjoyable Golf , European Courses , Golf & Travel , Golf and the Landscape , Golf Course Architecture , Golf Course Improvements , Golfing Destinations , H.S. Colt , Heather and gorse , Heathland Golf , Herbert Fowler , Huntercombe , James Braid , Links Golf , Old Elm Club , Renovation and Restoration , Royal Cinque Ports , Royal St. Georges , Short Par Fours , St. Enodoc , Strategic golf , Strategic Options , Sunningdale , Surrey , Swinley Forest , The Berkshire , Tom Dunn , Tom Simpson , Walton Heath , Willie Park, Jr. ,