My Daily Journal from England - Day 8
---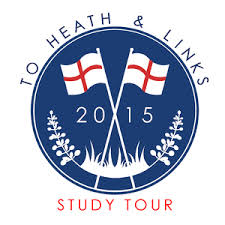 It's Sunday… a proper day to rest from golf after six straight rounds in as many days. Well… I mean from playing golf, that is. Today was meant as a relaxing day, but also a time to roam about the Southwest of England and see a few courses that we otherwise lacked time (and energy) to play.
We departed St. Enodoc and headed north along the coast to the hillside town of Westward Ho! The town is afforded a clear view to the water, with a bit of links land in between, which is of course where we found Royal North Devon Golf Club - the oldest links course in England. The links was laid out original in 1864 by Old Tom Morris before Herbert Fowler added his touches in 1908.
My impressions of RND are simple: This is old style golf… a course laid out, constructed and maintained in the simplest form possible. If you've not gathered by now in reading my blogs and comments, you know that I value "width"… as width allows for angles and options. This course is so wide that it will lull a player to sleep… and I suspect that happened regularly to the unsuspecting golfer. But the excessive width is in fact a trap… as the preferred lines of play are very evident and quite tight within the wide corridors.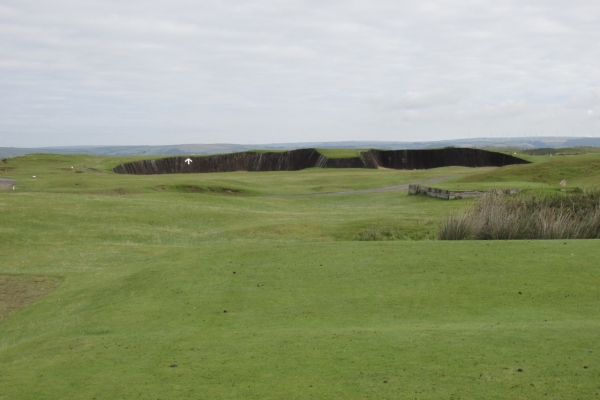 Massive fairway bunker with sleepers on the 4th - maybe the boldest feature on the course
The course is also managed by sheep. Yes, I did say that. The sheep handle the mowing and management of the turf… and they do a smart job of it. It's not perfect turf, but its certainly acceptable (if you manage to avoid the waste piles the sheep also leave in their wake).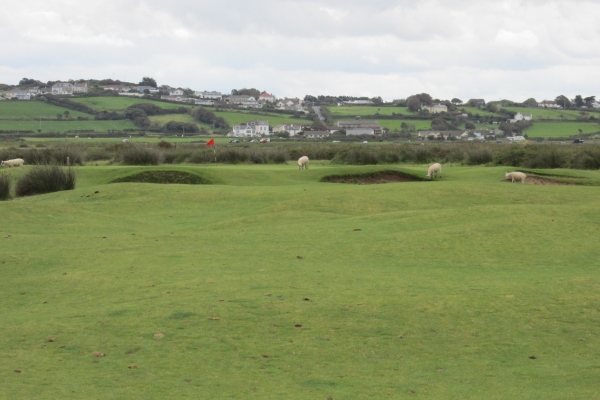 The greens staff busy at work - they're everywhere!
The land here is much softer with more subtlety than anything I've seen so far here. Some might say "vanilla"… and I think that must be just exactly what Old Tom wanted, because there is contour out there and it has a profound influence on the golf course - just not as visually obvious. I was not able to play today, but I was enticed enough by walking the entirety of the layout to place it on a list for my return.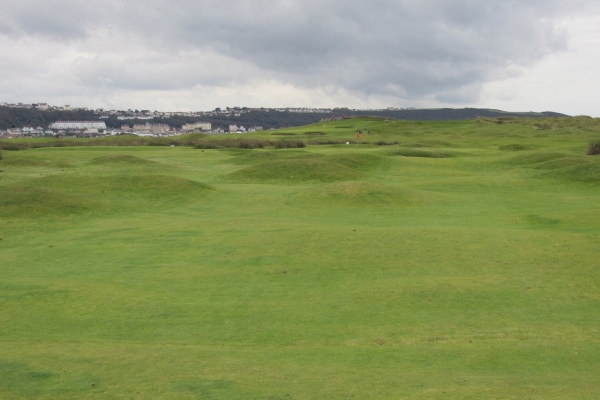 Random forms in the green approach on the 10th at RND
After lunch in Westward Ho!, we continued northward to Burnham-on-Sea. Here we literally stumbled upon the #1 course in SW England and #33 overall, according to the resident pro… at Burnham & Berrow. An initial 9-hole course was laid out in 1890, then extended to 18 in 1897. From there, a number of golf's leading architects of the day then had hand in the evolution of the design… including Herbert Fowler, Harry Colt, Hugh Alison and Alistair MacKenzie. Colt's influence, however, seems most prevalent.
B&B is yet another links course… and it socks you right between the eyes from the first tee with large dunes lining both sides of the hole. From there the course goes 9 holes out and 9 holes back in in a classic out/back loop, par of 71 at 6958 yards. This place really impressed me… there was nothing to take issue with, really. All the holes were very properly developed and with very apparent strategic values, beautiful views, useful alignments… and very good green complexes. Bunkering was simple…and only 44 of them by my count… all very effectively placed. There were four holes that had no bunkers at all! The landforms were so ideal as features that bunkers were essentially unnecessary in places (and perhaps that is due to some of the blindness as well)… but there was really terrific balance, in my opinion.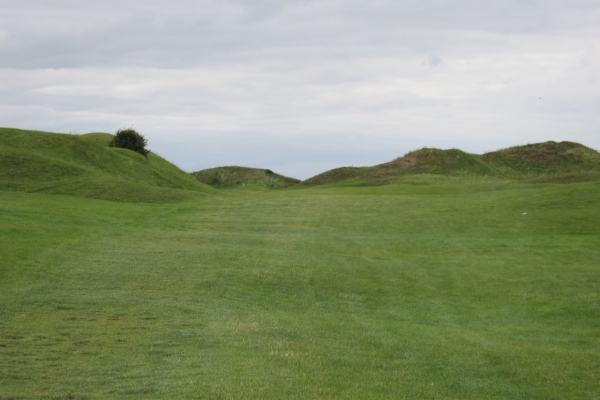 Fairway on the 1st hole - the dunes offer a proper greeting right away
Burnham & Berrow is yet another course where the architect(s) effectively utilized width and angles to set up strategy… angles fairways, angled ridges, angled rows of bunkers, hollows turned against the line of play… and even the alignment of the hole against and amongst the dunes. Width allows for angles… angles afford options. And on top of that, this course manages the playable corridors quite well… there is ample room to miss and recover. I'm definitely coming back to play here!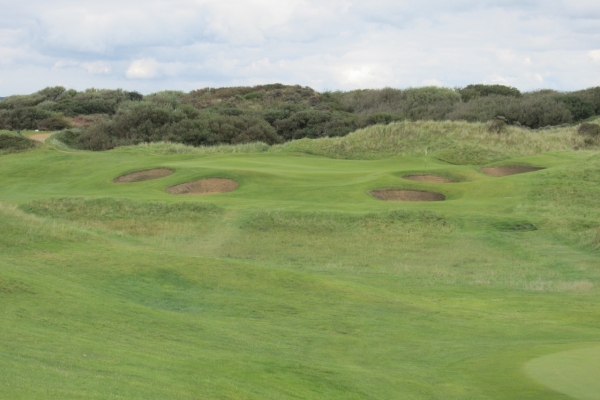 Par-3 9th… really effective green complex and an even better green surface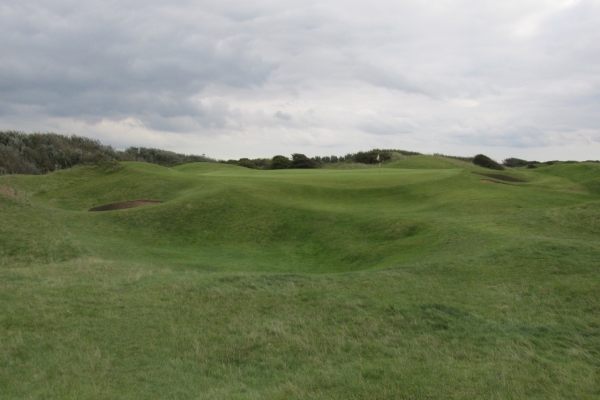 The par-3 17th - gorgeous forms… simplicity

Tags
A.W. Tillinghast , Alister Mackenzie , ASGCA , Bunkers , Burnham & Berrow , Classic Courses , Course Design , Design Elements , Donald Ross , Enjoyable Golf , European Courses , Golf & Travel , Golf and the Landscape , Golf Course Architecture , Golf Course Improvements , Golfing Destinations , H.S. Colt , Hazards in golf , Heather and gorse , Heathland Golf , Herbert Fowler , Huntercombe , James Braid , Links Golf , Renovation and Restoration , Royal Cinque Ports , Royal North Devon , Royal St. Georges , Short Par Fours , St. Enodoc , Strategic golf , Strategic Options , Sunningdale , Surrey , Swinley Forest , The Berkshire , Tom Dunn , Tom Simpson , Walton Heath , Willie Park, Jr. ,