My Daily Journal from England - Day 7
---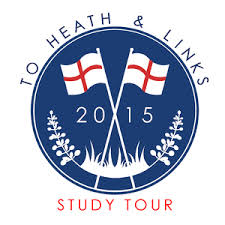 Away again from London… and a brief respite from heathland golf. Now off to Cornwall and the seaside town of Rock on the southwest coast, via Stonehenge early this morning. Destination: St. Enodoc Golf Club. This one is not on everyone's radar, but it certainly should be…it's a legitimate Top 100 Course and here's why.

The modern-day "Church Course" was laid out by James Braid with some influence by Herbert Fowler… both having connection to yesterday's visit to Walton Heath. I'm a bit unclear on the dates of evolution, but the club was founded in 1890 and Braid more or less solidified the current arrangement of holes around 1907. Immensely historical, St. Enodoc has long been a steady representative of fine links golf, but perhaps in a less typical setting than most are accustomed.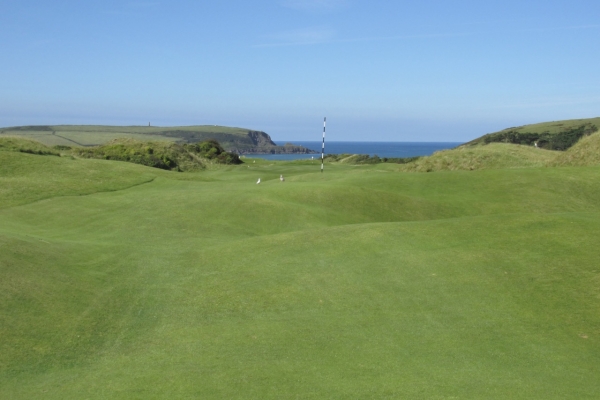 St. Enodoc is not short on dramatics - beginning with the 1st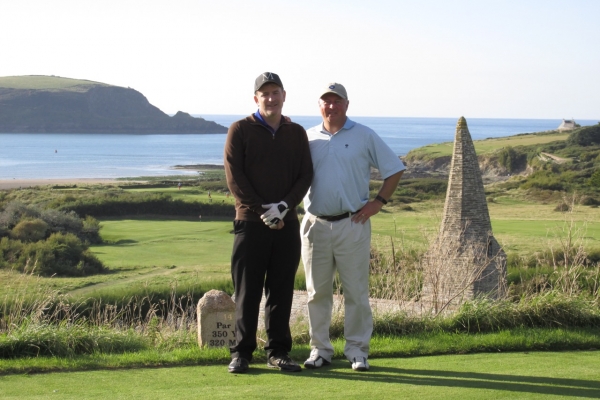 Fellow architect Richard Mandell and me on the 14th tee, above the church
St. Enodoc is set atop high ground… mostly isolated dunes and links land overlooking an adjacent estuary, bay and the distant cliffs along the Atlantic Ocean. Long, elevated views of the water are common throughout the round and the links land features high banks and severely canted slopes from start to finish - rarely will you find an even lie, not even in the fairway! During my round today, I characterized the course at St. Enodoc as "playful" and "whimsical"… an immensely natural and rustic sort of hole arrangement that is full of Braid's quirk and imagination. I'm quite keen to appreciate this brand of golf, as I think it represents the purest form of our fine game… with hints of Prestwick, North Berwick and Lahinch as comparisons.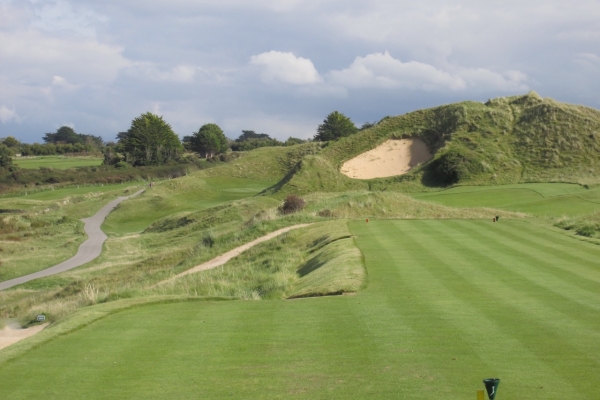 The famous 6th with the gaping Himalayas bunker
The course measures out at 6557 yards at a par of 69. Sounds like a bit of a pushover, right? I must say, this might be the most testing and yet charming par 69 course in existence - its got more than enough teeth. The holes are very well positioned and varied in sequence. We've all seen the par-four 6th with the Himalaya bunker… it's a beauty. And the long par-four 10th (Church) with it's cavernous valley-like fairway and finish in the foreground of the church steeple backdrop. But for the first time this week, I was really charmed by the finishing holes… mainly holes #14 through 18. All are absolutely awe-strikingly beautiful, including a strategic par- four, a dramatic elevated par-three, a winding par-five, another long par-three with a banked plateau greensite among the dunes, and then a charming par-four finish with a scenic elevated tee, a rolling valley fairway and an elevated green just below the clubhouse. I failed to play my best at St. Enodoc, but again there is no way I can let that impact my observations and opinions… I enjoyed my share of fine shots, but I just simply deserve another go!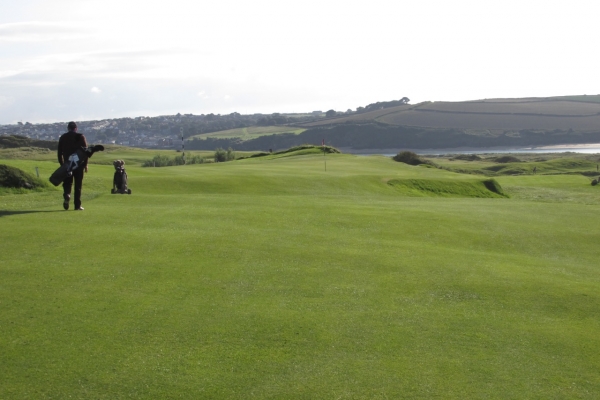 "Ledge" may be the best description of the 14th at St. Enodoc... best be left!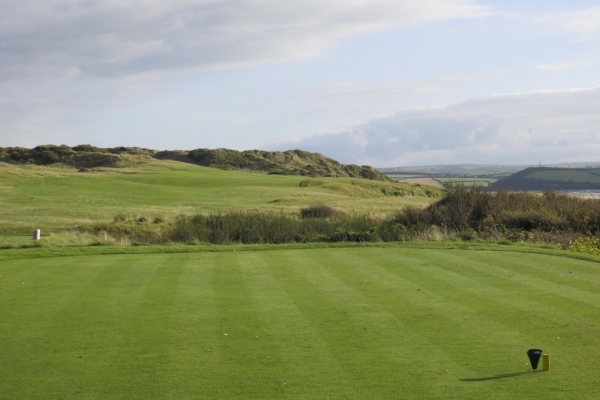 Classic tee shot on the 16th… a stunningly beautiful hole tee to green - just gorgeous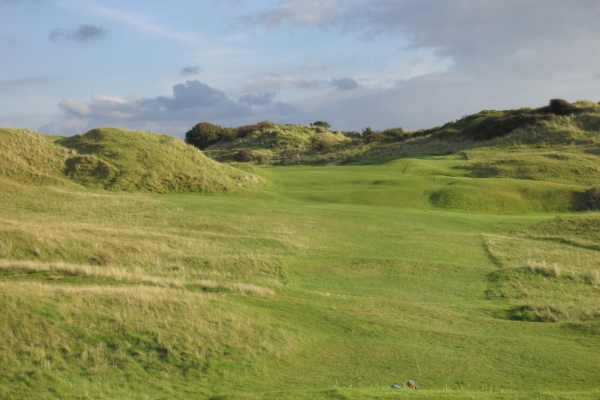 The par 3 17th adds to the strong finish
Like most courses, this one has certainly undergone a moderate bit of modification through time… mostly positive improvements… and perhaps a few in question, but that is for the finicky folks like myself! St. Enodoc has continued to evolve through time just like any other course. Honestly though, the course has a sort of untouched look about it…it's well conditioned, yet ragged and sometimes downright rugged, yet imminently beautiful… and it stretches the boundaries of modern golf and perception - which is a big reason why I like it so much. I can't imagine the course plays a whole lot differently today than what Braid originally created over 100 years ago… and that alone makes it worth the long journey. This place is a relic. Anyone who considers themselves aficionados of golf courses and design has an incomplete resume if they haven't been to St. Enodoc.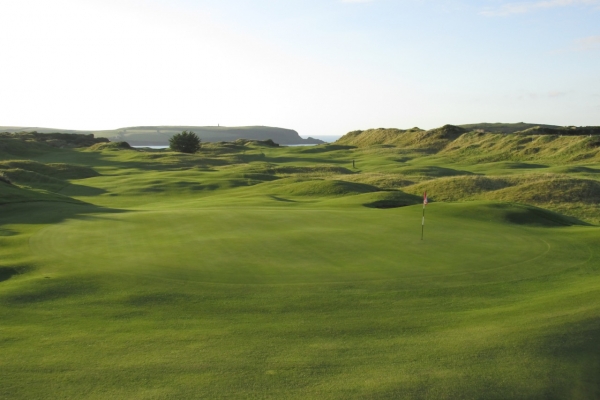 The 18th alongside the 1st at St. Enodoc… natural beauty personified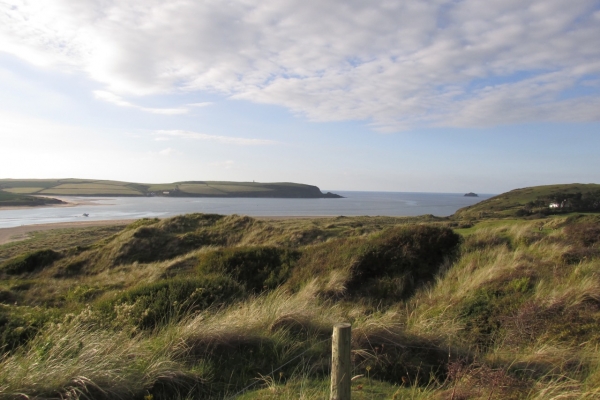 No golf here…just distracted by the views and landscape

Tags
Alister Mackenzie , Architectural Study Tour , ASGCA , Bunkers , Burnham & Berrow , Classic Courses , Course Design , Design Elements , Donald Ross , Enjoyable Golf , European Courses , Golf & Travel , Golf and the Landscape , Golf Course Architecture , Golfing Destinations , H.S. Colt , Hazards in golf , Heather and gorse , Heathland Golf , Herbert Fowler , James Braid , Links Golf , Old Tom Morris , Renovation and Restoration , Royal Cinque Ports , Royal North Devon , Royal St. Georges , Short Par Fours , St. Enodoc , Strategic golf , Strategic Options , Sunningdale , Surrey , Swinley Forest , The Berkshire , Tom Dunn , Tom Simpson , Walton Heath , Willie Park, Jr. ,