My Daily Journal from England - Day 5
---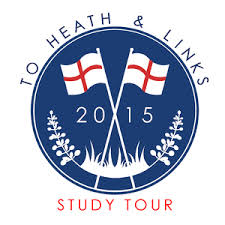 Many feel like golf courses are many times defined by their greens. Whether that is completely or singularly valid or not, this is not for me to decide. But in the case of today's course, Royal Cinque Ports (Deal), the greens and their integrated surrounds certainly played a huge part in the dynamic identity of the course. At Deal, the green complexes and surfaces were amazingly varied...bold at times and some of the most naturally gorgeous contouring you will see anywhere. I've tried to capture some of the green contours in photos (herewith)...with some luck and also some unfortunate washouts...sorry! Subtlety is sometimes quite difficult to capture.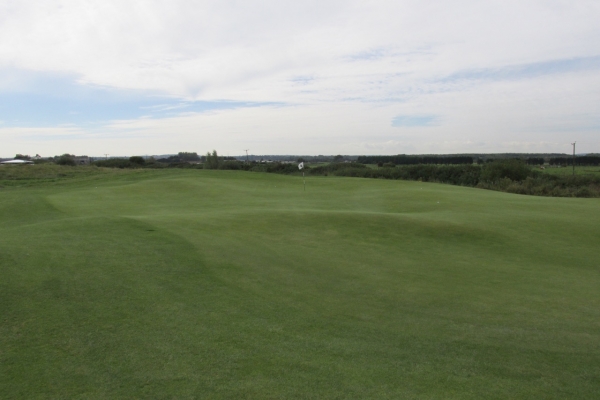 Gorgeous contours on the 16th green.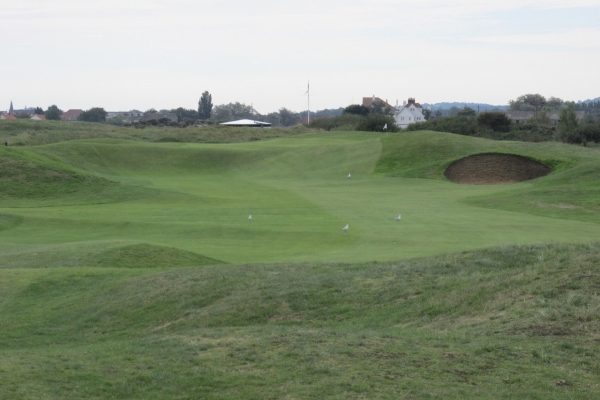 The 16th…what an amazing green complex.
Though debatable, I favored Sandwich (RSG) by a moderate margin over Deal, but it should not be misinterpreted that Cinque Ports is in any way an inferior experience. In fact, set so uniquely as a neighbor to Royal St. George's, one might be hard pressed to find a better pair of adjacent links, period. I think if I were to return here again to play both courses, I would be completely contented. Both inspire great shot making… both take advantage of dramatic landforms… both possess just the right amount of "quirk"… they're strategically well bunkered and the greens (collectively) are some of the best in the world.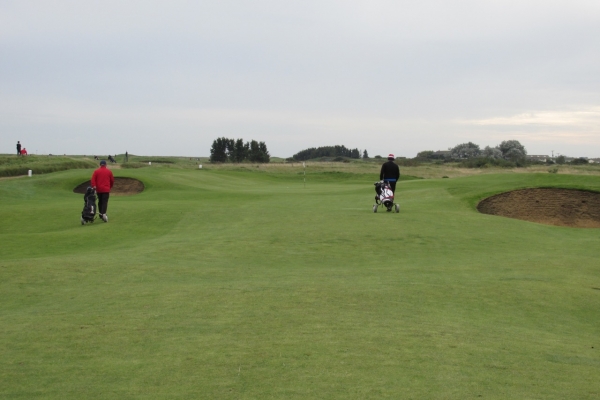 Shot of approach and green at the 12th. We joked that you could play "skee ball" on that left bank.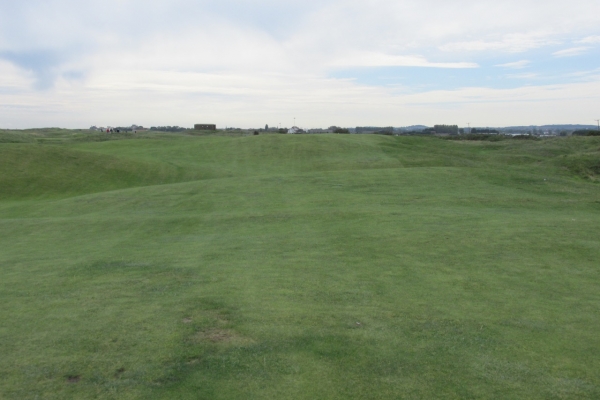 The bold fairway contours here can give the ball quite a ride.
Our group favored the short par four 6th hole today… it proved drivable by at least one player from 326 yards… and immensely fun for the rest. A small, plateau green sets into a dune with a steep, shaved slope in front and requires immense creativity to solve successfully. Approaches are mostly short, delicate pitches to the elevated green platform….but they are devilishly treacherous. I was also fond of the par five 3rd, with its amazing punch bowl green site… as well as the dramatic and beautiful back-to-back par 4's in #16 & 17. Of course I liked them… I birdied them both! They're both just the sort of holes I enjoy playing the most, with their dramatically rolling fairway contours and obscured targets. I guess I just fancy the odd holes that some might hate!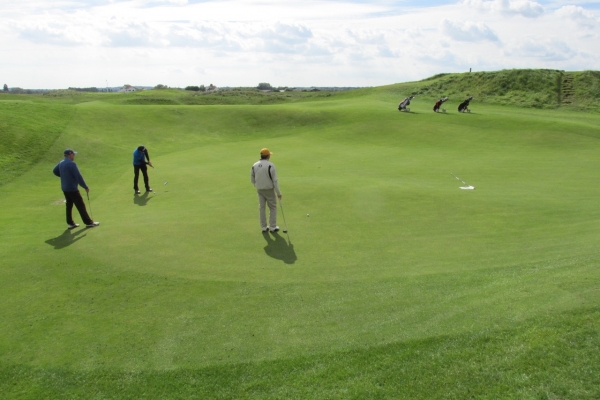 The punchbowl green at the par-five 3rd.
In the evening we were treated to an elegant and unforgettable closing dinner at historic Leeds Castle… where we enjoyed a guided tour, fine cuisine and wine and then bid farewell to all of our architecture comrades, both new and old. The next study tour will be held in 2018 in Australia.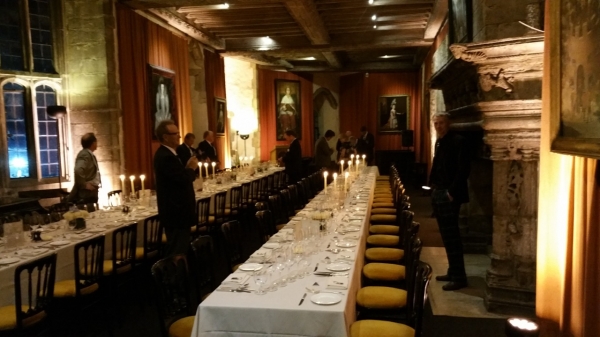 Dinner in Leeds Castle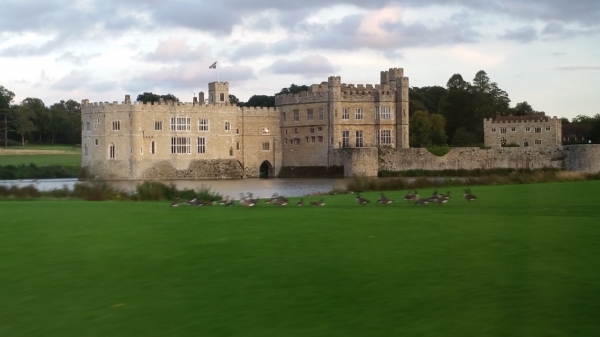 Leeds Castle
Now…. although this formal tour has now ended, I'm excited to say that yet another tour is beginning. This 5-day "extension" will set off tomorrow at Herbert Fowler's Walton Heath. I'll be joined by fellow architect, Richard Mandell as we take in yet more of the very best heathland and links courses to be offered in England.
Tags
A.W. Tillinghast , Architectural Study Tour , ASGCA , Bunkers , Classic Courses , Course Design , Design Elements , Donald Ross , Enjoyable Golf , European Courses , Golf & Travel , Golf and the Landscape , Golf Course Architecture , Golf Course Improvements , Golfing Destinations , H.S. Colt , Heather and gorse , Heathland Golf , James Braid , Links Golf , Renovation and Restoration , Royal Cinque Ports , Royal St. Georges , Short Par Fours , St. Enodoc , Strategic golf , Sunningdale , Surrey , Swinley Forest , The Berkshire , Tom Dunn , Tom Simpson , Walton Heath , Willie Park, Jr. ,