My Daily Journal from England - Day 3
---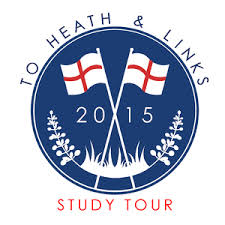 Today, The Berkshire. Hebert Fowler crafted two courses here...the Red and the Blue. We enjoyed the Red Course, which gains it's reputation not only as a fine heathland test, but also because of the arrangement of holes. The Red Course features 6 par 3's, 6 par 4's and 6 par 5's...which I must say, is quite an enjoyable way to play...never an over-abundance of any one hole type or length. I'm not sure if many others noticed, or even felt the same as I.... but along with the variety in par arrangement, I sensed quite a wide range of styles... mainly in the bunkering. As we all know, the bunker style contributes greatly to the visual intrigue of holes, among others... but at times I was confused as to what Fowler's intent was here... or if somewhere along the way, the bunkers had been modified. I saw more than a few abandoned bunkers on the perimeter of the corridors, suggesting that perhaps the playable turf widths were at one time much wider...less heather! Those bunkers had a simpler look to them... not like some of the more elaborately shaped ones we see today.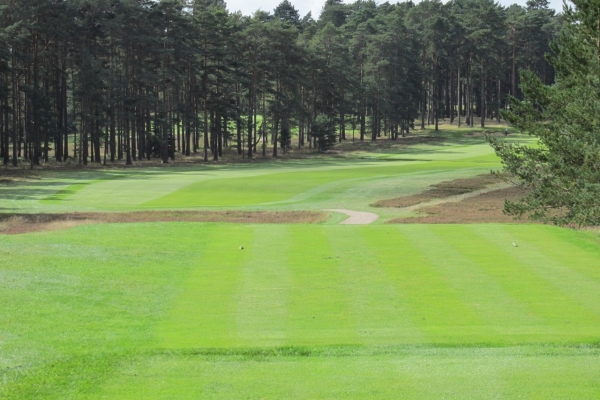 I love the angled fairway on the the 3rd hole… a par 5. Angles inspire options.
Like Sunningdale, "heather" continued to figure prominently with play, lining most every hole tightly on both sides of the fairway. It made me think about typical rough on most US courses...and the fact that heather is sooo much more penal and impactful than high grass...not even close!!
A "heathery" greenside bunker - one of several bunker "styles" featured at The Berkshire
Back to Fowler... we were treated to an insightful presentation on his intents with The Berkshire as well as his other masterful work down the road at Walton Heath (I'll be visiting at the end of the week). Mention was made also of Eastward Ho!, a very fine course by Fowler (one of a select few in the US) on Cape Cod...recently touched up by Keith Foster. It is quite a gem - I can attest!

We were treated to better overall weather today...only a few bursts of rain...overcast but overall pleasant. Word has it that Mother Nature has different plans for us tomorrow as we take on Royal St. George's (Sandwich)! Just what you expect with links golf. But, I gather that most in the group are keen to enjoy some links golf for a change and some relief from heather!
Our group voted again today on the best hole...with the top three including holes #10, 11 and 12. The par 3 10th took the prize. So in two days now, we collectively selected mostly holes from the middle of one's round...not the finishing holes...interesting. How would US golfers feel about that?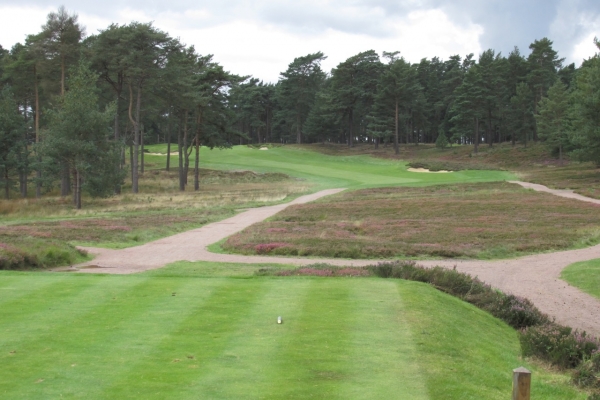 12th hole - par 4, angled fairway, a natural fitting hole, one of my favorites on the Red Course
So what to take away from here? US golf perceptions are certainly challenged by what is offered here in the Old World. Anyone who has traveled here to play golf...anywhere in the British Isles, knows exactly what I'm suggesting. It's eye opening and a complete pleasure...and it's golf as it is MEANT to be played. Most member golfers here even have their dogs join them as companions on the course...fancy that!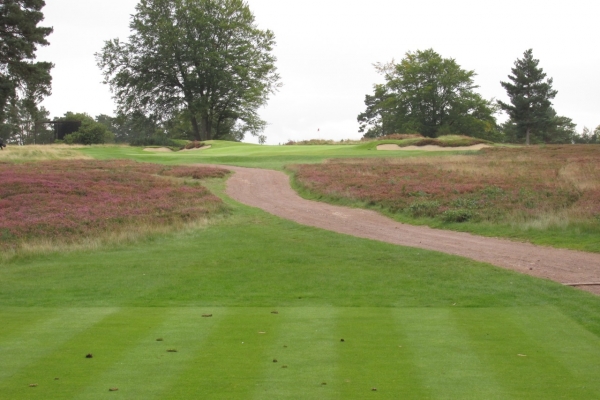 The finish on the Red Course… a par 3

Tags
A.W. Tillinghast , Architectural Study Tour , ASGCA , Bunkers , Classic Courses , Course Design , Design Elements , Donald Ross , Enjoyable Golf , European Courses , Golf & Travel , Golf and the Landscape , Golf Course Architecture , Golf Course Improvements , H.S. Colt , Hazards in golf , Heather and gorse , Heathland Golf , Herbert Fowler , Huntercombe , James Braid , Links Golf , Renovation and Restoration , Royal Cinque Ports , Royal St. Georges , Short Par Fours , St. Enodoc , Strategic golf , Strategic Options , Sunningdale , Surrey , Swinley Forest , The Berkshire , Tom Dunn , Tom Simpson , Walton Heath , Width and golf , Willie Park, Jr. ,