March Madness at Doral
In an era where golf courses have fallen defenseless to the almighty length of touring professionals, we've seen fairways narrowed, bunkers added, trees planted, higher rough, conditions firmed up and green speeds lowered to the point that balls roll well beyond the tolerance of designed contours. Why? Because yes, "these guys are THAT good".
So when J.B. Holmes and Bubba Watson offered criticism of a green surface this week at the WGC – Cadillac Open at Doral - on a par five, whose green is "unforgiving" to longer second shot approaches?! – My sympathies dried up, I'm not feeling it for ya.
As Holmes articulately stated, "It's pretty bad that you can hit two perfect shots and the ball can go in the water because of just a ridiculous green design. It's stupid. I hit a 350-yard drive and hit a six-iron straight up in the air, it landed three feet off the left edge of the green and five feet on and it goes in the water on the right side of the green." Even Brandt Snedeker's caddy took shots at Doral, saying it was the worst course he had ever caddied on. Why, you ask? Because he felt the course was unfair – it is designed and set up too much for the long hitters.
And there the riddle begins. What to do when a course doesn't set up well for one's strengths or when two consecutive "stock shots" are unrewarding to the super hero talents of the PGA tour. Fair or unfair?
As a course architect, it gives me pause – and makes me think of other athletes who faced with similar conundrums. In baseball, the batter knows his strengths and weaknesses and he studies the pitchers to better know theirs. It's a strategic chess game: knowing when to lay off the high hard one, for example. Hear that, J.B.?? There might be other ways to tame the Blue Monster (someone who shot 62 on Thursday surely has the wherewithal to pivot for one hole, and try another approach). With all their abilities, surely the best players in the world can draw on their creativity – and execute the proper golf play. Or are we just watching another video game?
Several players said they hit their second shots short of the green on the first hole so they could try to hit a wedge close to the pin – so apparently some players ARE thinking out there and were willing to adjust. Says the always-humble Adam Scott, "The green is just incredibly difficult." Scott hit a wedge to 10 feet from 84 yards, but missed the birdie putt. "It is not inviting to hit any kind of long iron in at all with this kind of firmness, and it almost would be foolish, too, because I can pretty much tell you the outcome of what's going to happen if you pitch a long iron on the green."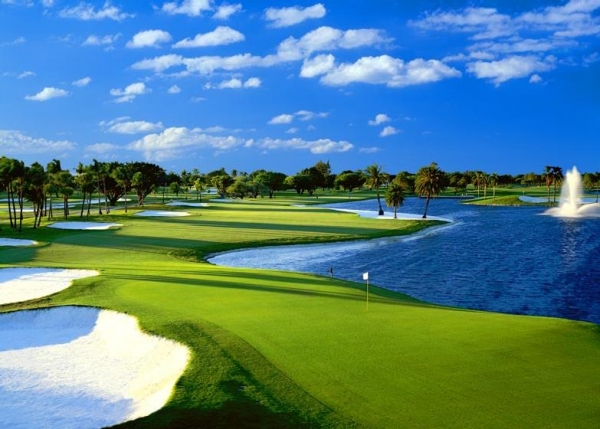 Recall in the '90's, college basketball fans were all treated to a familiar David vs Goliath battle during March Madness. The Princeton Tigers were always one of the toughest outs in the early rounds of the tournament because of Pete Carill's odd offensive sets, trademark back door plays and the confident way his teams executed what represented 'their best chance' of surviving a far superior team. Just ask Georgetown and UCLA, among the other monster teams that struggled to solve the riddle of Princeton. Those kids regularly stared straight into the eyes of the monster and gave it their best shot… no excuses. But this week, some pro golfers instead stared at another Monster - and complained that it wasn't fair.
At Doral, there's no question that 'The Donald' wants to see the pros work hard for their money… he's absolutely 'getting off' on their struggles - the course renovations and set-up are no doubt deliberate. But we're also seeing some low numbers – some really good golf to go along with the pains and mishaps. Gil Hanse, one of our most talented "traditionalist" designers, handled the re-tooling of Doral a few years back, and most recently built the course in Rio that will be the stage for golf in the 2016 Olympics. I recall when Trump hired Hanse, thinking that was an interesting, perhaps odd, selection for this endeavor – not Gil's usual cup of tea. But there's no doubt he knows what the hell he's doing (and perhaps more importantly, what his client wants). So maybe Gil Hanse is now running golf's version of Carill's back door cut!!
For the last several hundred years, the keepers of this fine game have been consistent in preaching that golf is not meant to be "fair" - rather it is the business of the player to solve the puzzles. That is the charm of the game and one of the primary reasons we enjoy it so. On the tour, however, golf is a business, not an afternoon stroll. If left to the players, the fairways would be flat and the greens would be fast and relatively featureless - and when was the last time a bunker posed any sort of trouble to these guys? A golf course with these qualities would be mundane and repetitive, indeed. So when a course is prepared to challenge the best in the world, does "fair" all of the sudden now become a consideration?
Here's what Bubba had to say…."Just every shot (at Doral) is tough, there's trouble on every hole, a lot of bunkers. I'm in a lot of bunkers. I don't want to lay off the tee, I don't want to lay back and have 5- and 6-irons into these small greens. It just makes it tough for me and my personality in what I want to do. Off the tee, I hit a lot of drives. I can go around here with a lot of irons but I don't want to do that; it's not the way I play. So for me, yes, it's very difficult."
Hmmm. That's a very telling statement…Bubba was not willing to adjust HIS game to fit the course and conditions. HE would rather strong-arm what HE wanted to do vs what the course is offering him - then complain when unsuccessful. That's it in a nutshell. It's an attitude. It's about "ME". And when things don't go their way, look out, because some of these guys are hunting down excuses wherever they can find them. Just remember, the "entitled" are not going to blame themselves for anything. That's why I'm picking Pete Carill Gil Hanse in my bracket.
Tags
Course Design , Design Elements , Donald Trump , Doral , Florida Golf Courses , Gil Hanse , Golf Course Architecture , Golf Course Design Trends , Golf Course Improvements , Golf Course Maintenance , Golf in Brazil , Golf Technology , Greens speeds , March Madness , North American Courses , PGA Tour , Renovation and Restoration , Resort Golf , Strategic Options , Tournament Golf , Trump Golf , Why Golf is Fun ,