Jens Jensen & the Evolution of Today's Landscape
---
Now I can recall sitting in a college lecture hall, over 20 years ago, listening to my Landscape Architecture History professor babble on about English gardens, pocket parks, Sir Humphrey Repton, Capability Brown….and a fellow by the name of Jens Jensen. Why do I remember his name? Even then, it struck me that his efforts and his philosophies seemed more genuinely practical than others. His appreciation for Nature was keen and unique. And here, years later, I took time to reach back into my notes and book collection in search of these prodigious theories that seem to now, more than ever, be among those which should be most widely practiced in design.
Jens Jensen was a Danish born landscape architect, one of the most influential designers in the US and who became the leader of the "Prairie School" of landscape architecture. Like others of his ilk, including architects Louis Sullivan and Frank Lloyd Wright and Fredrick Law Olmstead, Jensen called Chicago his adopted home and was most inspired by the landscape of the Midwest. The Prairie movement would fade over time, but Jensen's theories on ecology and designing in harmony with Nature would continue to be held in high regard among most landscape architects.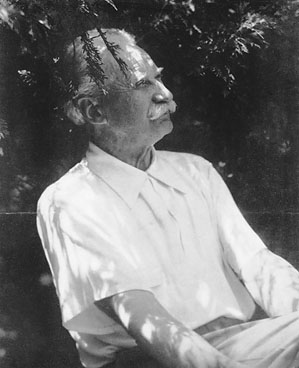 Jensen was also a writer, and penned memoirs reminiscent of Thoreau and Wordsworth. He wrote a number of books, with the most widely read being Siftings, in 1939. He writes as if the landscape is a painting, and is bold with his opinions – some of which are most humorous.
I include Jensen's Siftings along with Aldo Leopold's Sand County Almanac among those landscape bibles that I refer to from time to time to rejuvenate my design focus – and as reminders that Nature is by far the best designer of landscapes in existence, and when we observe Nature's magic, we are sure to succeed if wise enough to follow.
Over the past 15 years or so, I have witnessed a general movement in golf course architecture – one that has gone from total excess and artificiality to something considerably more organic and simple. Some refer to this approach as "minimalism". Call it what you want, but the concept underlying the work in this category is born more out of 'need' than anything else. Sure, the simple, rough "look" is appealing…particularly among golf purists, but the bones beneath the meat are what makes the movement most effective today and the most relevant for the future of golf development and management for the foreseeable future.
What with the challenging times now facing golf courses all over the world, there has been a greater focus on doing more with less. Water is becoming a very scarce resource – one that has traditionally been consumed in ways that the Golden Age architects never dreamed. Designs now accommodate by using a smaller irrigated turf footprint – and in place of water loving turf species, the use of native and drought tolerant grasses - the incorporation of indigenous landscape materials in out of play areas – and removal of exotic or ornamental treatments. Innovations have been made in the irrigation industry to help us address these matters as well. The discussion can go on and on with this subject, but that is not entirely my point here. What is important to me in this writing is that Mr. Jensen had a proper vision for our landscape well over 100 years ago. Now it seems that we are perking up our ears a little more each day, listening to the ways of the wise – we're reverting back to history….and slowly but surely realizing some success.
Jens Jensen was not just a lover of meadows and native woodlands. His works show that he was involved in a variety of project types over his career. He designed private residential gardens, public parks, hotels and resorts, schools and hospitals, horse farms, corporate offices, outdoor drama spaces, large estates and yes, he even worked with golf course architects in the laying out of an approach for the landscapes of golf courses. Among those listed among his works in Jens Jensen, Maker of Natural Parks and Gardens,
| | | |
| --- | --- | --- |
| Grand Beach Co. | Grand Beach, MI | 1919 |
| Homewood Country Club | Flossmoor, IL | 1908 |
| Lake Shore Country Club | Glencoe, IL | 1929 |
| Milwaukee Country Club | Milwaukee, WI | 1931 |
| Northmoor Country Club | Highland Park, IL | 1931 |
| Racine Country Club | Racine, WI | 1909 |
| Ravisloe Country Club | Homewood, IL | 1910 |
(with Colt & Allison)
Jensen and his theories serve as a true inspiration in my work today. And though we don't hit the mark 100% of the time, the thought is always there – and I think that serves us well in all that we do. Jensen was a fine designer; a master in the use of native plants. He understood elements of light and shadow and of space, framing and the natural layering of plants from woodland to meadow. He also understood time...the endurance of plants, their fitting place and the succession of life.
If you work in golf, play golf or have any appreciation for golf courses – or if you simply appreciate Nature and her beautiful landscapes, you should take the time to read about Jensen and his work. I hope you, too, will be inspired and entertained. And you can easily read Siftings on an airplane flight.
I'll leave you with a few of Jensen's more stirring remarks:
"Every plant has its fitness and must be placed in its proper surrounding so as to bring out its full beauty. Therein lies the art of landscaping."
"Landscaping must follow the lines of the free-growing tree with its thousands of curves."
"To try to force plants to grow in soil or climate unsuited for them and against nature's methods will sooner or later spell ruin."
There are dozens more, many of which are quite strongly stated! Jensen was passionate about the prairie landscape and about creating an ecological fit. He is clear in his decree about altering the landscape in unnatural ways – and that we will all surely pay the price for it somewhere down the line. I've seen his words in life – with real affectation. I'm working harder today to listen and to follow the signals in front of me – and hopefully that will produce work that will be naturally enduring…. an approach I learned from a gentleman named Jens Jensen.
Tags
Course Design , Environmental Golf , Golf and the Landscape , Golf and the Prairie Style Movement , Golf Business Models , Golf Course Architecture , Golf Course Design Trends , Golf Course Maintenance , Golf Technology , Jens Jensen , My Process , North American Courses , Water and Turf Management ,