Back Again to Bandon
---
Surely by now the word is out….there is a world class golf resort on the coast of southern Oregon? It's called Bandon Dunes. There are four 18-hole courses on the property and they're all ranked among the Top 100 in the US. Yes, you say? You've heard of it? Oh, you've been there? Great! Well, even if you haven't yet made the trek, let's talk a little about just how unique this place is, shall we?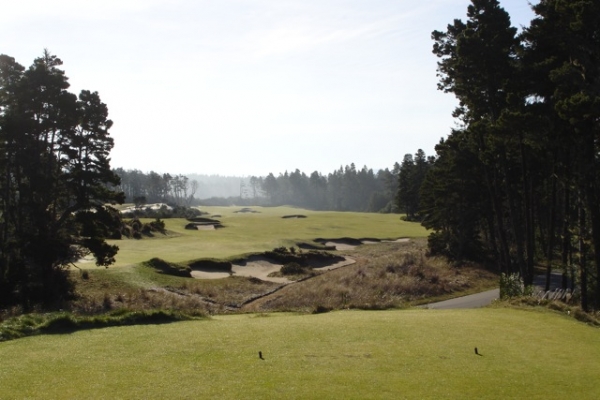 Tee shot at Bandon Trails #3 - Quite a pristine setting for golf.
Let's first account for the courses at Bandon:
Bandon Dunes - 18 holes by David McLay Kidd in 1999
Pacific Dunes - 18 holes by Tom Doak in 2001
Bandon Trails - 18 holes by Coore & Crenshaw in 2005
Old MacDonald - 18 holes by Tom Doak in 2010
Bandon Preserve -13-hole par three course by Coore & Crenshaw in 2012
Anyone who has visited Bandon knows that you have to really want to be there in order to get there! It's a four-hour drive from Portland, mostly on two-lane logging roads, or just a short jaunt from North Bend (if you can find a seat on one of the semi-depenadable commuter flights). Bandon is right in the middle of nowhere – or depending on how you look at it – right where it should be! After all, golfers enjoy a good pilgrimage now and then, just so long as they are treated with supremely great golf (not just good golf). And when you arrive at Bandon Dunes, you quickly realize that you are in the right place – it's a golf lover's Mecca.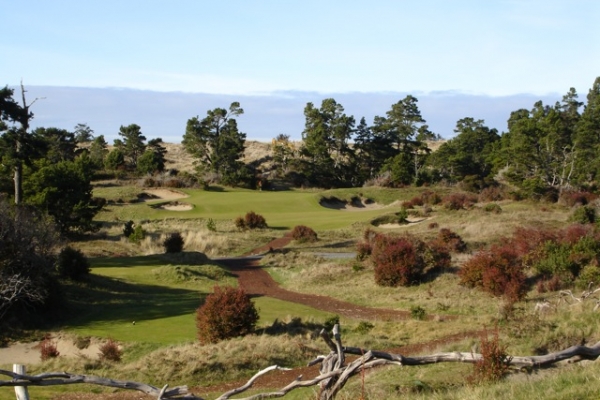 The par 3 17th hole on Bandon Trails. Beauty unsurpassed.
There is some serious golf at Bandon - some of the best to be found anywhere in the world - and the entire resort revolves around providing well for serious golfers. Literally everything one might need or desire when on a golfing pilgrimage has been tended to at Bandon Dunes….the accommodations, the food and drink, the caddies, the special needs, the missing pieces – its all there….Clearly, they've put some thought into it!
I made my first visit to Bandon Dunes in 2004, I recall. A business trip that also included stops in Portland and Bend – all to look at potential golf course sites. We took in the golf available at that time, the only two courses were Bandon Dunes and Pacific Dunes. We played all 36 in one day. And the intial impression that was left on me was that I felt like I had just made the trip to the British Isles. The look and feel of the place…the architecture, pot bunkers, the fescue grass and firm soils underfoot…even the fragrant gorse flowers. It was unmistakable. This was pure links golf….. but in the United States.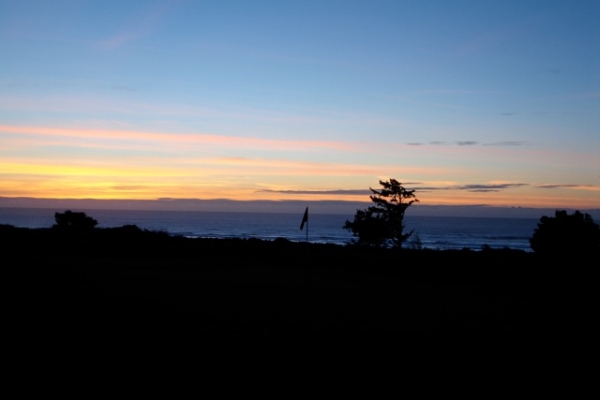 A perfect ending to the day at Bandon Dunes.
At first I was very taken by Bandon Dunes (the first course)… as at that time, it was really the only authentic links golf experience I could recall anywhere in the US. And it certainly bared a striking resemblance to the courses I previously played in Scotland. But then after playing Pacific Dunes, I was convinced that the effort had been taken a step further. Pac Dunes was a bit of nirvana for the golf course architectural mind. That prompted me to take an even closer look at McLay Kidd's effort – among his first solo designs. Not to be too hard on the architect or the course, but it has weaknesses, in my opinion….a confusing routing, far too much earth was moved, and the shaping of the dirt was not at all indicative of the emotion of the existing landscape. It just lacks a certain continuity and adherance to an innate theme. A true links course? Absolutlely! And a good test of golf as well, as can be attested. But an architectural masterpiece? It may have been prematurely crowned upon opening, as at that time there was nothing to compare. And, well, it has its challenges. But it was the initial calling card for the resort, and it proved quickly that it represented something that most American golfers had never experienced and so it remains popular today.
I returned to Bandon again in 2006, but this time with all of my mates from AHSF. We had enjoyed a tremendous year of work and decided to reward the gang with a trip to Bandon, like we had done several years prior in going to Scotland. This time we were able to take in the newly opened Trails Course, along with Pacific and Bandon. Again, we played Bandon and Pacific on the same day. For some reason I always seem to struggle on Bandon, but then get it together on Pacific Dunes and shoot a reasonably good score. I can only guess that I must see the shots more clearly on Pac – it's a better fit for my game and I know that I appreciate the strategies as devised on Pac - which must make a difference. Just a hunch! I was anxious, though, to experience Trails for the first time…. And sure enough I played it, in a steady, driving downpour! Nonetheless, it was a treat to see, and met well with my expectations, though certainly a different presentation of golf than the previous two courses – which I thought was a good thing…. and a valuable asset to the resort as such.
Last week, my travels took me back to Bandon again…. this time with a client of mine. We were there to do research on bunker styles and native landscape treatments for a very impacting restoration project. We were also there to hook up with my good friend David Zinkand, who is a fine, budding architect in his own right and works periodically for architects Coore & Crenshaw. He was there making refinements to the Trails Course. Not only can David design, but he can also jump on a dozer or excavator and build it!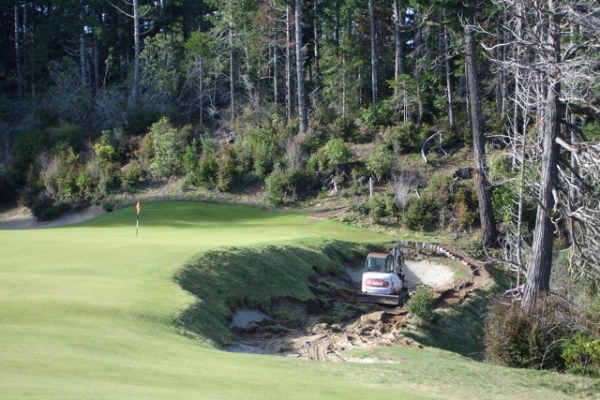 This is David on Bandon Trails #13, dressing up the greenside bunker a bit.
Much of our stay on this trip was dedicated to walking and observing the courses and the styles of the features…which we certainly did in abundance. This trip also allowed me to return again to take a closer look at the Trails Course – since the rain caused me to keep my head down for most of the day last time and I'm quite sure I missed a few things! We also took in Bandon's newest additions: Old MacDonald – an 18 hole course by Tom Doak that serves as a tribute to Golden Age architect C.B. MacDonald (National Golf Links of America, Chicago Golf Club, etc.). MacDonald is known for his use of template holes – holes whose strategies are repeated in concept from course to course. Rumors had swirled that "it is different". but I wanted to see and experience it for myself to come to my own conclusions - I was anxious to see how Doak had woven the template concepts into the native landscape of Bandon. I also had some anticipation to see Coore & Crenshaw's newest addition….Bandon Preserve – a 13 hole short course (par threes ranging from 40 to 150 yards).
For our "strictly business" purposes, we were immediately focused on Trails. The bunker style and edging treatments were of primary focus to our upcoming restoration work – all done masterfully by C&C and Co. Impressive too was the way the fairways flowed directly into the bunkers (without being stopped by a strip of rough). We also appreciated the variety this course has in the surrounding landscape and the way each hole is framed and presented. Each hole corridor displays wonderful "layering" of native landscape materials….meaning the forest transitions in scale through use of plant materials, all the way down to the more manicured edges of the golf holes. The treatment is very natural and fitting. With our notes and photos taken, we decided to play the course in its limited state – only about 13 or 14 holes were open (due to David's on-going work efforts). Conclusion: Trails is a real gem – and surprisingly not as well appreciated by the resort guests as it should be. It's weakness?? Perhaps the fact that it does not meet up to directly relate with the ocean (like the other three courses do)… but I think that also serves in part as its strength, as it far makes up for the missing ocean by providing an entirely different golf experience than the other courses – and its so well done – strategically very sound, and an absolute pleasure to play.
We also managed to sneak out for a round on Old MacDonald as well. The conditions were perfect. Much to my interest and amazement, Old Mac was really an ingenious effort by Doak - even better than I had imagined it would be. Nowhere in my career had I seen MacDonald's template holes reproduced in this way. I have long embraced MacDonald's work and that of his contemporary, Seth Raynor – playing the familiar holes like, Redan, Alps, Eden, Biarritz, Hogback, Punchbowl, Short, Sahara, Road Hole, Cape and others that have been frequently copied. And for the most part, my experiences of playing these holes and recalling their appearance were really quite similar from course to course – only subtle differences among them. The templates are usually marked by the same sort of architectural style (MacDonald and Raynor), which is a use of strong geometric shapes, straight lines, hard, uniform slopes, flat bunker floors and very engineered looking contours. At Old Mac the character displayed nothing of the sort….In fact, at times it was a challenge to distinguish the "template concepts" because the terrain and shapes were so natural and flowing and they defined the strategies in a much more subtle manner. Hats off to Mr. Doak and Co. Mission accomplished - if that was in fact the goal. On top of that, the course is extremely playable…very wide from tee to green and little presence of rough, which really feeds a golfer's creativity, especially around the greens.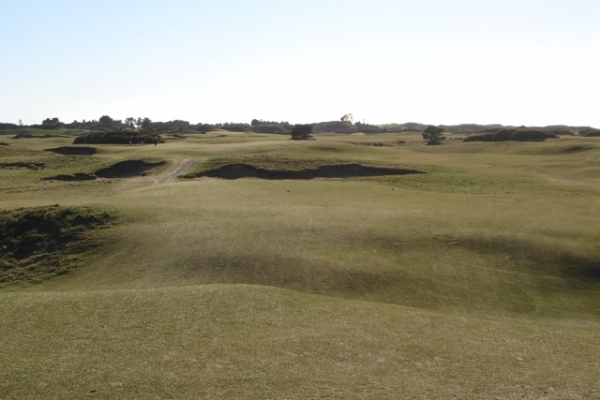 Old MacDonald #12, a par three - This is the Redan. A little different than North Berwick, National and Shinnecock?!
We closed our trip by enjoying a late afternoon trip around the short, Preserve Course. I suppose I was looking forward to this experience as much as any – much because our industry has been heavily pushing "short courses and alternative golf" to the golfing public and developers for no less than the last ten years now – and it has been discouragingly slow to gain traction for the most part. With so many other activities competing for our leisure time and for our money, the short course truly offers a most enjoyable alternative for golfers of all skills. The courses require only a fraction of the space, a much smaller budget from which to build and manage….they're affordable, can be simply played by young kids (in promotion of the growth of the game) and they only take an hour or so to experience. Short courses have so much upside.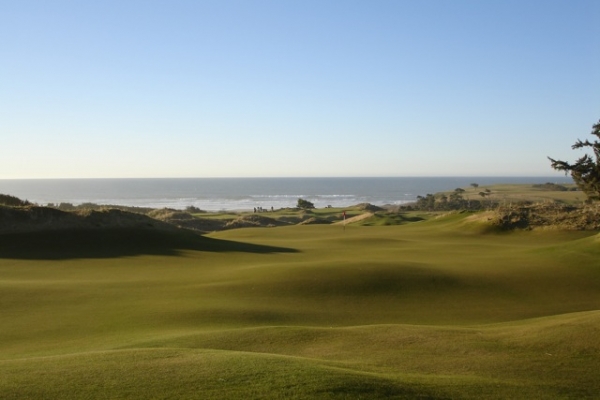 Magnificent contouring at the shared green surfaces for holes #4 and #7. Nice finish work by David Zinkand.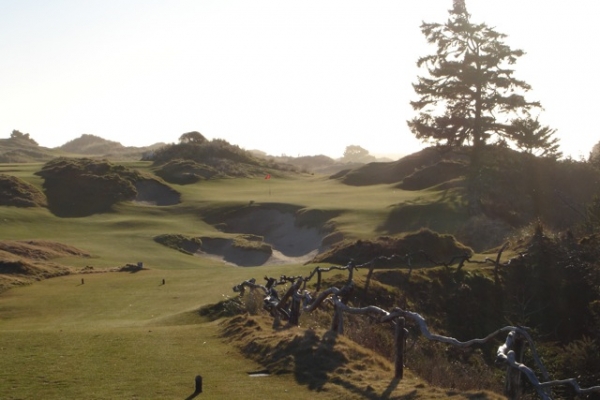 We just stood here and said, WOW! This is the 2nd hole - about 150 yards & the longest hole on the course.
Well, as I had anticipated, Bandon Preserve certainly did not disappoint. In fact, not only was it the best short course I have ever played – it was truly one of the most enjoyable overall golf experiences I have ever had – period! I'm not going to lie…the weather was perfect, our group was fun, and we enjoyed a beer or two. But the holes were simply spectacular – world class in every way. I never expected that out of a par three course. The pictures don't even do it justice – and they're not too shabby, if I might say so myself! Bottom line: We need more facilities like this one all over the US (and around the world for that matter), especially with public access and as resort amenities – as they would do golf a lot of good…not to mention how well they fit into our hectic schedules and tight pocketbooks today.
Here is the kicker….the Preserve Course was built on a very sensitive site…home of the endangered, silvery phacelia (plant). A normal golf course would never have been achievable due to constraints…but the short course was (only tees and greens)….and the resort is now directing all of it's net proceeds from Bandon Preserve to the benefit of the Wild Rivers Coast Alliance, which supports projects that protect the rich lands and waters of the South Coast of Oregon. Seems like everybody is winning here.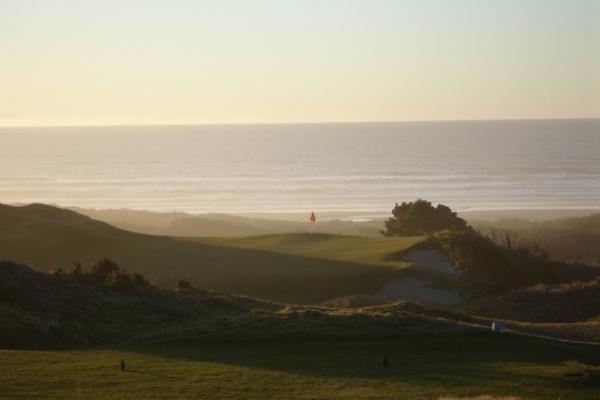 What a view.... I believe this is the 9th hole. Sun is starting to get low, but we finished before dark in just 1.5 hours.
Well done, Bandon Dunes Resort – and kudos to the owner and visionary, Mike Keiser. He gets it, again and again. And to the architects of these fine courses... We're all very proud of your efforts and what you're doing for golf. And finally, to whoever might be reading this blog....if you're a golfer - a real golfing enthusiast - you must make plans to visit this special place.
Tags
Affordable Golf , Bandon Dunes , Bandon Preserve , Bandon Trails , Bunkers , C.B. Macdonald , Course Design , Enjoyable Golf , Environmental Golf , Family Golf , Golf & Travel , Golf Business Models , Golf Course Architecture , Golf Course Design Trends , Golf Course Development , Golf Course Maintenance , Golfing Destinations , Growing the Game , Kids Golf , Links Golf , Mike Keiser , National Golf Links of America , Non-Traditional Golf , North American Courses , Old MacDonald , Pacific Dunes , Par 3 Courses , Public Golf , Renovation and Restoration , Resort Golf , Short Courses , Social Side of Golf , Speed of Play , Strategic Options , Template Holes , Why Golf is Fun ,
---
Post a Comment