Reflections on Long Island Part Four of Four
---
Several weeks ago, I joined up with nearly 100 of my golf course architect friends from Europe, Australia and the US for five days of golf, architectural study and camaraderie on some of our country's finest venues. Our destination: Long Island, NY.
Our final day of golf took us into New Jersey and to Baltusrol Golf Club, named for "Baltus Roll", who was murdered in his house on the premises in 1831. Obviously, the Club is much better known in more modern times for it's fine golf courses and the championships that have been settled there. A.W. Tillinghast designed two magnificent courses on the property, the Upper and Lower courses, in 1922. Seven U.S. Opens, four US Ams, two US Women's Opens, and two US Women's Ams have been played at Baltusrol. In 2016 the PGA comes to town for it's second visit.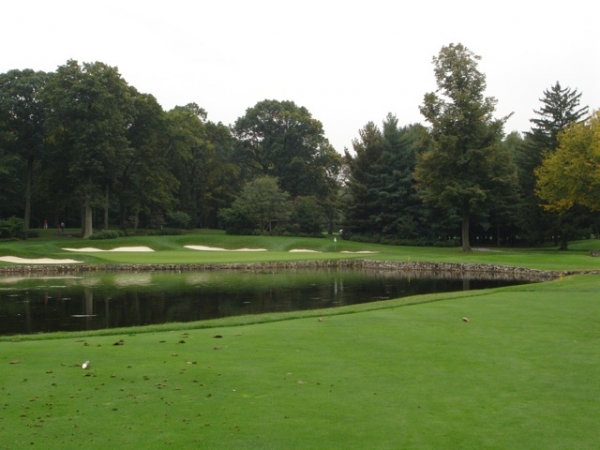 The pictueresque, par three fourth hole. The green is set against the water and a gentle hillside backdrop.
Baltusrol is a striking facility; regal and elegant. It all feels very traditional "East Coast". Unlike the previous two courses we enjoyed on the trip, Baltusrol represents more of the old country club standard; a parkland setting with tree lined fairways, lush green manicured grass and bright, white sand bunkers. It's a rich looking place; beautiful in it's own way and more of what American's have come to associate as a proper championship golf venue. On our visit, we played the Lower Course.
I enjoyed seeing the course…perhaps more than playing it. Granted it was hot and very humid – and I did not strike the ball particularly well. Maybe I was not as "inspired" as I was the previous two days?! I just found it hard to recall many of the holes – they seemed to lack much distinguishable identity. Don't get me wrong… I could hardly find anything to particularly dislike about the course or the individual holes. It just seemed like they all had a rather similar look, played much the same, and there was nothing special that stood out on any one hole (besides #4 and #18, perhaps). I was relating this to another person on the trip, comparing the expereince to that of a beauty contest, where all the gals are gorgeous and perfect, but how rarely that some stand out above the rest; they were all seem so similar in appearance and in substance. You just knew that there were none in the crowd that you were destined to spend any surmountable time with. Maybe that is a crass comparison?! Perhaps then, if Baltusrol were to play like a song, it would be loud, catchy and monotonously repetitive – just one of those songs that keeps beating in your head, but somehow it is a Top 40 hit. So, to me, it was far from a symphonic masterpiece with varied rhythms, stacatos and crescendos, but it was still very much worth listening to - just not over and over.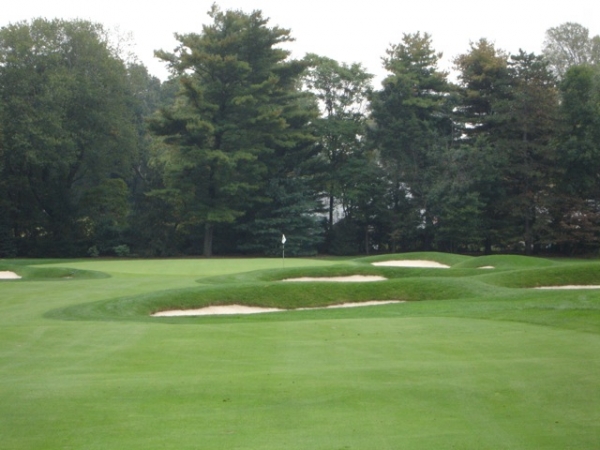 I have no recollection which hole this is....but the bunkering is nicely done!
As we talked in our group…after about four or five holes, we felt like we had a pretty good feel for the place. And I guess that is both the course's weakness and its strength, because again, none of the holes were objectionable, but then again, none of them were all too memorable either. In fact they possessed just what championship golf tends to display…long, hard, penal holes that fit together as a whole and just happen to also be quite beautiful. If it had quirks and more personality, the pros would probably reject it as being unfair and the USGA and PGA might be less apt to come calling. Maybe I'm just cynical!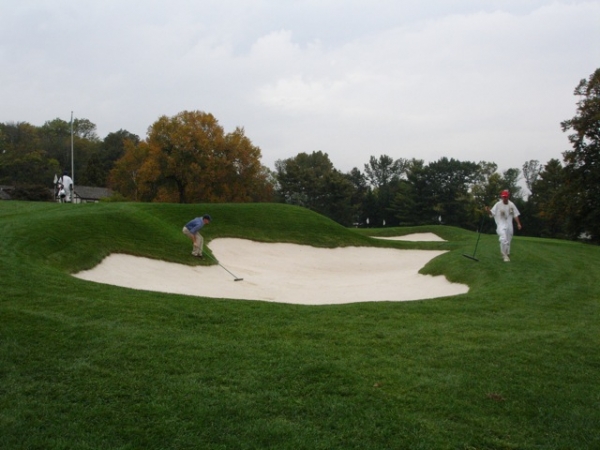 The bold greenside bunkering on the 18th.
I will say this…I thought some of the bunker work at Baltusrol was done exceptionally well (I believe Rees Jones and his team executed the work). No idea whether their work was truly restorative or not, but it was appealing. I managed to take a number of photos of individual bunkers that struck me as very well done – they fit well and possessed subtle, traditional characteristics. A lot of them also looked very similar (consistent?), but I thought well enough of their "character" that I made special note. That alone was worth seeing and having the ability to recount or reference the work that was produced.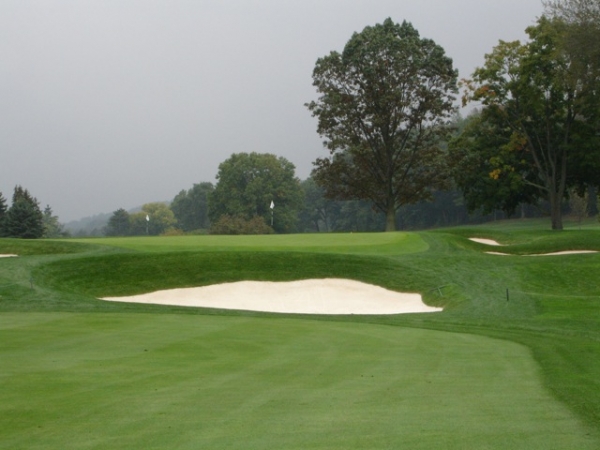 I believe this is the fifth hole; a really divine green complex. Again, the bunkering is well done, in my opinion.
I suspect that the course has changed somewhat over time, like most do. And since the two courses were in fact only one course originally, that left me wondering just how great that first course might have been. Influences by architects, green chairmen, Mother Nature and other empowered figures tend to guide how a course evolves and this course is no different. Like Bethpage – Black, Baltusrol had a wonderful flow to it – the holes rolled through and over the landscape in a lovely way and linked together with a pleasant flow – an interesting routing for sure. Just what you would expect from Tillinghast. But again, the true measure of the course – it's nuances and playing characteristics…all the strategic elements and subtelties – all seemed to be buried somewhere beneath where we were playing that day. The course just sort of came off as static – never too high, never low – just steady, solid and, well…dare I say a bit boring. After a while, even staring at groups of gals in swimsuits can wear on a person, right?! Maybe not...!
So for my money, I would gladly make a return to play National Golf Links of American and Maidstone on a regular basis if given such an opportunity. I could enjoy those courses everyday and with all the variety that results when the conditions change. Those courses were exceptional golf experiences in my mind.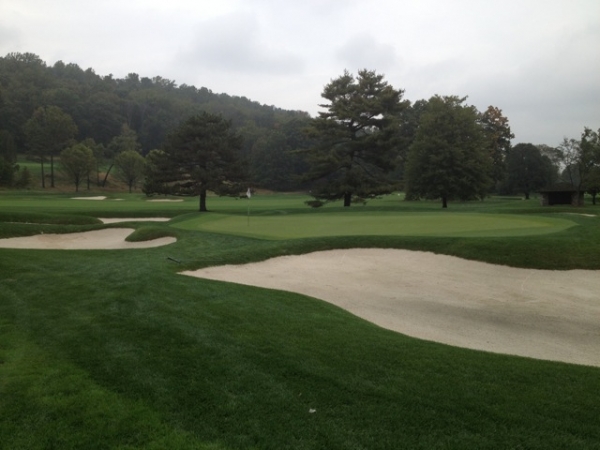 More bunkering and some variety as well - it all fit well. Sorry, I don't recall the hole.
I also enjoyed seeing the other two courses, in Bethpage and Baltusrol, but have less interest in returning to play them again. I guess that's why we have so many courses…so many styles and types, in all different settings – all to appeal to the preferences of an immense variety of golfers and enthusiasts. And that is good for our game – and why I enjoy doing what I do. And with that, this Study Tour adventure was one worth taking and an experience that will always stay with me in my work. I enjoyed sharing the adventure with you.