Is Newport National the New Model?
---
The past few years have been exhausting. Golf industry trends have been as depressing as the Nightly News. So when you hear a success story, it really stands out and makes you take pause. One such incidence involves a links style golf course in Rhode Island that I co-designed with Arthur Hills called Newport National Golf Club.
The course opened in 2002 and at the time was in the running for Best New Private Course of the Year. That was particularly satisfying because our team knew that we had built a course for pennies on the dollar when compared to what so many competing courses had spent. We were really proud of how we had worked together to overcome some pretty stiff obstacles, devise practical solutions and prescribe a path for the course's success. Because of the location, the unique site and a player-friendly design, we knew the course had every opportunity to be great. Initially though, the comments that came back were what you might have expected for a facility that had no clubhouse and no practice facilities. It was merely a stand-alone golf course with no other amenities, at a time when new courses were opening at record rates. Put simply, our recipe was not exactly as exotic as what the consumer was buying at the time – and apparently neither were the course raters! And after the initial excitement from opening, the facility struggled to identify what and who they were, and that was only exacerbated by the declining economy.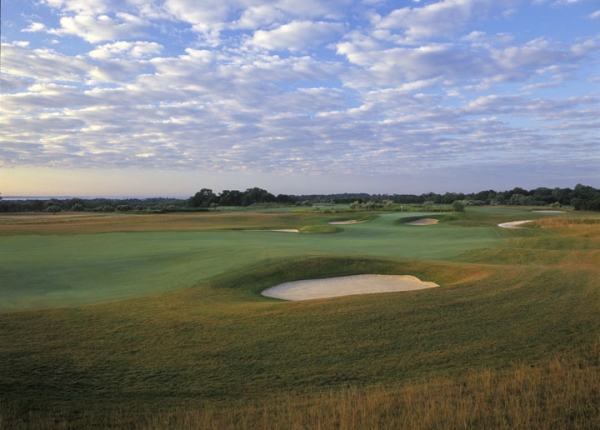 A few years later, though, the course would examine its existence, trying to figure out their identity. Clearly, they were struggling to be a higher end private facility in a market where other private clubs were beginning to slide. Their amenity package was incomplete. Ownership would eventually change hands and a move made to open doors to the public. As it turned out, this move was one that would push Newport National into a completely different market - one that would suit ideally. Today, Newport National offers annual pass memberships as well as daily fee play. It's an affordable, enjoyable course accessible to all. T.J. Auclair, with PGA.com even suggested, "Newport National is among the best links course experiences that one can have without making the journey across the Atlantic."
So here we are, ten years later, in 2012… times remain tough - even more constrained than the initial years of operation. Golf is still struggling to compete for the almighty dollar and consumer's leisure time. Yet, Newport National is plugging right along. I caught up recently with Matt Adams, who has been involved with the course from the start and remains the President and CEO of Newport National. I asked Matt about his keys to success, especially in what has become an unusually challenging market. "We established the playing of the golf course as an 'experience', noting in particular that this experience is unmatched. From the start I have said that this former nursery farm was the 'canvas upon which Arthur Hills and Drew Rogers have crafted their masterpiece'. While I believe this, the marketing comes first, then it is embraced as a reality."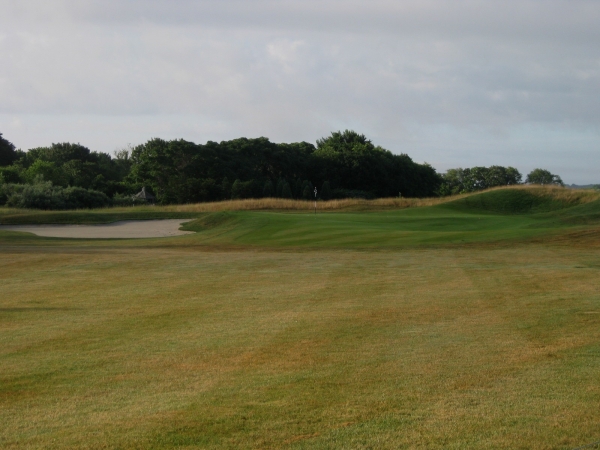 Newport National was not without other challenges as well… with the design, construction and on-going management of the course. Water was the most vital resource for growing the course in and for its on-going management. Today, there is very little water storage and even less that can flow from wells, etc. The course operates in a perpetual shortage through most of the season. Says Adams, "We let the golf course be the star. Any aspect of the course that one could otherwise deem as a detriment, we turned into a positive. For example, to many American golfers, 'brown' (turf) is seen somewhat as a negative. We celebrate it as part of what makes us different." And this was factored early-on during the design development …in designing the drainage collection system, the irrigation layout and choosing the turfgrases that would best suit these conditions. Being brown is embraced and promoted at Newport National – and it signifies that the course is coming into its prime season, condition-wise. Tee times actually increase as the course begins to show it's "true colors".
Superintendent Scott Roche rallied around the design vision of the course from the beginning. His efforts to keep the "turf on the edge" while conserving water and minimizing chemical applications has helped to keep the operating budget in check while presenting the most optimum playing conditions. 'Firm and fast' conditions are in promotion of the architectural design intent and the most sustainable approach to course management - one that is also right for the environment.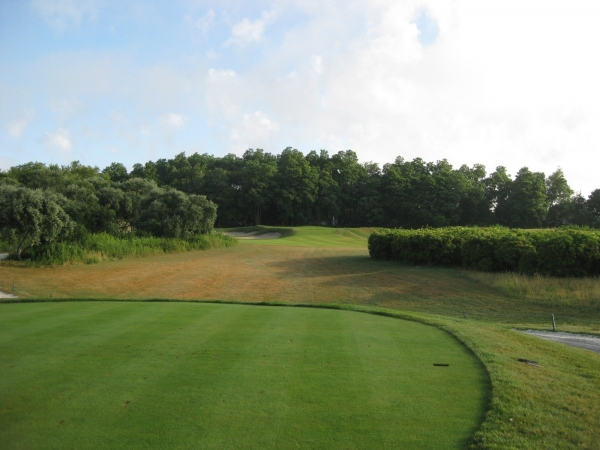 One strong criticism that remains for Newport National is the fact that there is no permanent clubhouse and no practice facilities. When Donald Trump stopped in to take a look at buying the facility, he cited those as significant drawbacks, and would decline on making an offer. Adams maintains that they make no excuses for what they don't have. Put simply, Adams says, "We just let the golf course be the star!" And when it comes to their simple and efficient clubhouse/golf shop they "focus on new progressive brands in the pro shop like Puma, Adidas and Nike, resulting in dramatic turns, aggressive price points and reasonable profits." The focus is put squarely on the quality of the golf course experience and friendly service and that seems to be what their patrons appreciate most, rather than expensive frills.
But in the end, the most important aspect of their recent efforts has been their marketing. "Over the years I have used a marketing matrix that directly targets our demographic. This way, we spend only as much as we must on marketing, yet our target audience hears our message constantly." Adams states, "The message is simply that you have choices in life and you deserve to play the very best. You deserve to have a golfing experience that is totally unique. Why settle for less when you can have the very best?"
Clearly, the facility has been able to push all the right performance buttons during hard times and the course remains popular as ever. New England Golf Monthly has rated Newport National the #1 public course in New England now for four years running. Other accolades have been received as well, being "Best in Rhode Island", among the "Best Public Courses in the US", "Best Conditioned Course in New England… the list goes on. They have remained true to who and what they are, and have always aimed at being the best.
Seems like a pretty good recipe to consider!
For more information on Newport National Golf Club, visit http://www.jdrewrogers.com/18/newport-national-golf-club---orchard-course and http://www.newportnational.com/
Tags
Affordable Golf , Course Design , Donald Trump , Enjoyable Golf , Environmental Golf , Golf Business Models , Golf Course Architecture , Golf Course Design Trends , Golf Course Development , Golf Course Maintenance , Growing the Game , Links Golf , Matt Adams, PGA Tour Radio , Newport National Golf Club , North American Courses , Public Golf , T.J. Auclair, PGA.com , Water and Turf Management ,
---
Post a Comment