My Daily Journal from England - Day 1
---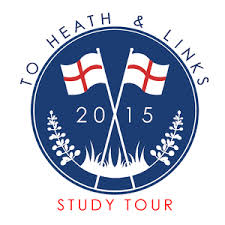 To Heath and Links Study Tour is now underway in England. Today found us all arriving to London, getting our bearings and making a refreshing and insightful tour of Sunningdale Golf Club and their noted "Lost Holes" by Harry Colt on the New Course. Without getting into complicated details, a number of holes were repositioned circa 1934 in order to take advantage of newly available land and less severe terrain. It seems the club is interested at very least in gradually uncovering the lost holes in some way… whether to play them, study them or utilize them in some historical way. But in touring the former alignments, what we could see was a dramatic arrangement of holes, five of them, including holes #6, #7, #8, #9 and #10 on the New. A broad, downhill sweeping tee shot with a difficult uphill approach was once the 7th.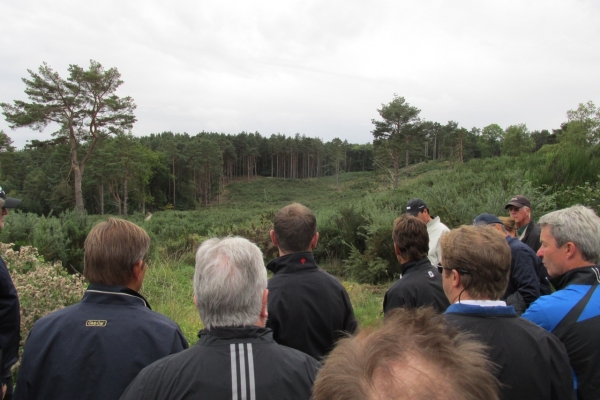 Lost Hole #7 on the New
The photo of the par-three 10th reveals that a much more suitable angle of approach once existed… seemingly far better than the more difficult alignment today (from the right side).
A view from Himalayan - the 10th hole on Sunningdale's Old Course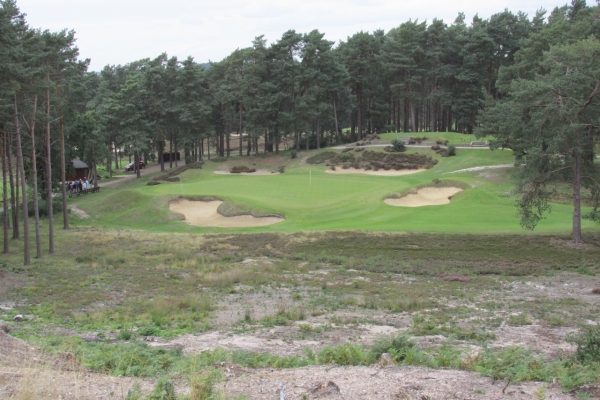 Our brief introduction to Sunningdale left us all with whetted appetites for golf on Harry Colt's "New Course" tomorrow… and we hope that rain will keep a distance. We were treated to a brief presentation in the clubhouse by member and staff experts/historians before heading out on the abbreviated tour. Sunningdale is a sight to behold… beginning with the clubhouse architecture, the famous tree and the entirety of the panoramic view from the terrace - all revealing of one of the finest heathland courses in the United Kingdom.
We're all dead tired…it's been a long day. I'll check in again following our round tomorrow.
Iconic clubhouse at Sunningdale
Tags
A.W. Tillinghast , Architectural Study Tour , ASGCA , Bunkers , Classic Courses , Course Design , Design Elements , Donald Ross , Enjoyable Golf , European Courses , Golf & Travel , Golf and the Landscape , Golf Course Architecture , Golf Course Improvements , Golfing Destinations , H.S. Colt , Heathland Golf , Herbert Fowler , Huntercombe , James Braid , Links Golf , Renovation and Restoration , Royal Cinque Ports , Royal St. Georges , Short Par Fours , St. Enodoc , Strategic golf , Strategic Options , Sunningdale , Surrey , Swinley Forest , The Berkshire , Tom Dunn , Tom Simpson , Walton Heath , Willie Park, Jr. ,