Trump National at Seven Springs
---
Westchester County, New York
My Time With "The Donald"
Do you ever find yourself wondering what could have been? In 1995, our firm (AHSF) was commissioned to design Donald Trump's first golf course…Seven Springs, just outside of Bedford in Westchester County, NY. It might be the least known and talked about of Trump's golf efforts, but it had oodles of potential.
The site was as rich with natural (and man-made) features and dramatic beauty as any I've seen. Seven Springs had long been a prominent property in Westchester, also known as the Rockefeller Estate and the childhood home of Kathryn Graham, publisher of the Washington Post. Trump's project manager at the time was Dino Bradlee, son of longtime Washington Post Editor, Ben Bradlee. Suffice to say, there was so much excitement surrounding the project that it was destined, as Trump would frequently remind everyone, to be the best golf course in the United States. Trump commented brashly that he would be disappointed if it were second best.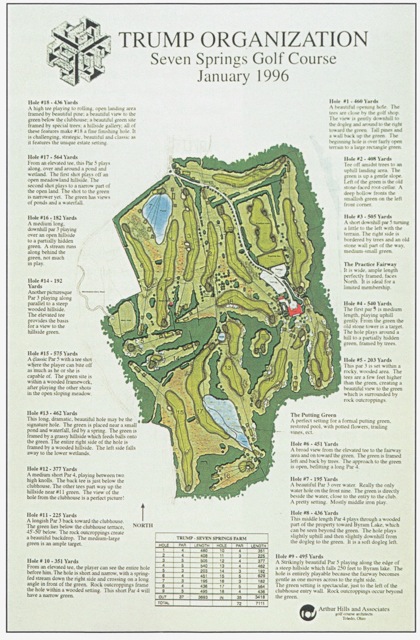 I recall before being hired by Trump that we were in a sort of design competition with a number of other heralded architects. Arthur assigned the project to me and promptly sent me to NY to visit the site for 3-4 days and work out the best routing options. The site was full of opportunities, but there were only a few solutions that would produce an appropriate fit to the site – a piece of land laden with underlying granite and sensitive wetlands and forest – and yes, a Georgian mansion and surrounding formal grounds! I got to know the site as if it were my own, having tramped over every square yard. Ultimately, the routing that Arthur and I devised would get us the job. As Trump put it, "I didn't realize just how incredible this land is from a golfing standpoint until Arthur Hills came along. Of the five architects we contacted, Arthur's routing was the best by far." Thank you very much! Time and effort well spent.
Arthur always seemed a little star struck at the idea of working with Donald Trump and he reveled with our regular phone encounters. Meanwhile, I was relegated with actually working WITH Donald…an experience that not only surprised me but would help me grow as a design professional. I fielded regular calls from Mr. Trump, had meetings with him in his Trump Tower office in Manhattan. Private planes, limos and tours with writers – it was a fun ride. I recall the first team meeting there not long after we were hired – a room filled with professionals (about 30 or so) including engineers, landscape architects, building architects, environmental scientists, hydrologists and the rest were all attorneys! Mr. Trump was absent for most of the meeting, but came in near the closing and asked to speak with me… privately, in his office. I was just a LITTLE intimated! But for the next hour, we got to know one another and appreciate our respective viewpoints. I listened to his ideas, and shockingly, he did the same. I think that is where my respect and appreciation for him began – with the realization that a man so famous and powerful was actually willing to listen, TO ME! And then I came to understand, that the great Donald Trump was as sharp and successful as he is not because he knows everything but because he is willing to listen to those who are closest to him; those who work for him. I found that to be most amazing and valuable to remember.
Our relationship of working together would continue for another six years – six years of tiring effort dedicated toward getting the Seven Springs plan permitted and accepted by the local townships (of which there were a nightmarish total of four!). It was a brutal period and one that would prove unsuccessful in the end, as Mr. Trump would eventually call off the fight and pull the plug on the project.
At that same time, Trump was also in the throws of more golf development, including the re-creating of an existing property, also in Westchester County, called Briar Hall. Arthur and I looked at this opportunity with Trump as well, but Arthur opted to concentrate our efforts strictly on Seven Springs. And as history would follow, architect Jim Fazio gladly gobbled up the Briar Hall project while we slid downhill with Seven Springs. Jim would then go on to design Trump International in West Palm Beach, FL and others. The Donald has now become one of the most prolific golf course developers in history, with branded clubs in New Jersey, New York, North Carolina, Pennsylvania, California, Virginia, Florida, Puerto Rico and now more recently, the acquisition of the Doral Resort in Miami and the opening of Trump International Golf Links in Scotland, considered by some to be one of the greatest courses in the world.
Just remember that it all started with Seven Springs – a project lasting six years that was never built. I have to think that Mr. Trump learned an awful lot about golf development in those six, trying years...what made a good plan, how to navigate the process and figuring out how to develop a vision for a golf facility. It would prove to be a good practice run for Trump, and also a great growth step for me. I like to think that we both learned a lot back then, together. Can't help but think that we might have benefitted by pursuing the Briar Hall opportunity a little more enthusiastically though! What could have been?! At least I can say that I never heard Mr. Trump utter the words, "You're fired!"
In a side note to this bit, one of Trump's golf property additions a few years back was the Lowes Island Club in Virginia. Today it is known as Trump National Golf Club – Washington, D.C. The Club features two courses: one by Tom Fazio and another by Arthur Hills (and me), from 1999. The course remains relatively untouched today. Perhaps it will be a chance to reunite again with Donald someday? We shall see.
Enjoy an article written about Seven Springs and Trump by Ron Whitten in Golf World – June 5, 1998, and a candid photo of Arthur, Donald and yours truly on the formal lawn at Seven Springs.