Drew's List of Inspirational Courses
---
One of the great things about golf courses is that there are so many different expressions to experience - they're literally ALL different and hopefully unique in some way, not a one-size-fits-all. As a result, we as golfers are inspired by certain golf courses in one way or another. While some tastes stand out or overlap as being universally "great", others may "sneak through" as being more uniquely appealing or stimulating to one's own personal senses. It just so happens that my fascination is drawn to more whimsical layouts with quirk and distinction - I'm always looking for surprise and fun!
Given that we're thankfully all a bit different, it has always seemed unrealistic to produce lists of "greatest" or "top" with something that is so subjective in golf courses. But since the request came down to pen my ten favorite courses, for whatever its worth, I've put together a group that has either stirred my architectural mind or given me great joy to play - or more ideally, both!
Huntercombe, England (Oxfordshire)
This is Willie Park Jr. at his absolute most eccentric. Shockingly bold features with deep crater-like hollows and pits and craggy, heather-laced hummocks - unlike anything I've ever seen by Park, much less anyone else. The greens are also as distinctive and playful as one will ever see from Park. Very few bunkers. The course is being expertly tidied up now by my good friend, architect Tim Lobb. Huntercombe is an absolute joy to see and play. If you know, you know ;)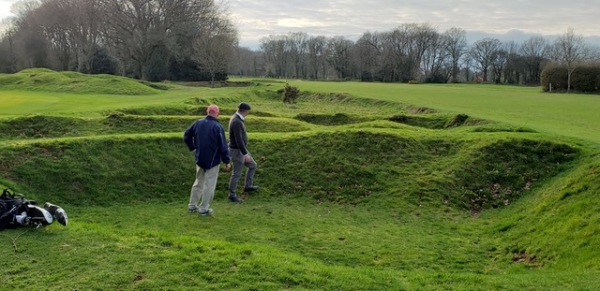 St. Enodoc, England (Cornwall)
An old-world links from James Braid that left my head spinning. I felt like I was being invited to find my own holes out there! A real breath of fresh air that took me back to my childhood with holes that just seemed to beg, "Why not give this a whirl?" Daringly bold… distinctive coastal beauty, historic charm, ocean views, a church, footpaths and iconic bunkers. Every bit worth the long trip out to the far tip of England's southwest coast.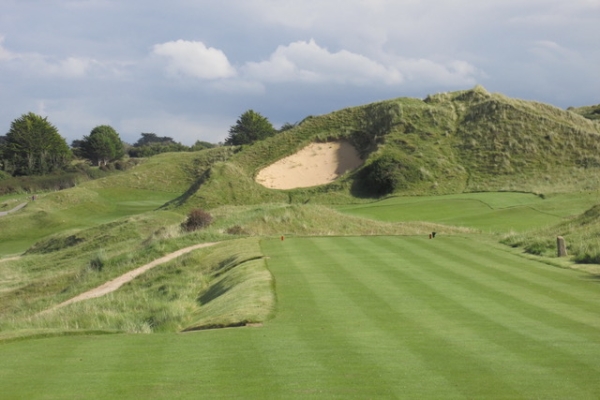 Pine Hills, Wisconsin
OK, I'll openly admit to being a bit biased with this course, mainly because I am consulting with the Club now. That cannot stand in the way of my most sincere appreciation of what Harry Smead produced here and what Ron Forse continued to refine for many years. The massive land forms and deep bunkers beckon comparison with the works of Langford & Moreau (see Lawsonia Links, also in Wisconsin), but at Pine Hills that similar boldness is certainly more of a natural expression versus Lawsonia's steam shovel results. The undulating green surfaces here are also some of the absolute best I've seen anywhere. My first visit to Pine Hills left me speechless, and now I have the distinct honor of spending quite a bit of time there!
North Berwick, Scotland
Not much need be said here. This is about as close as a golfer can come to a perfect playground, including famous holes such as Redan, Pit, Gate, Point Gary, and others less copied. After playing here, one's presumption of what golf is - or should be - will likely be hanging in the balance. North Berwick inspires me to think about FUN and pushes me to search for those more imaginative opportunities in my work. It is also the single course that I must revisit on each and every trip I make to Scotland, without exception.
Bandon Trails, Oregon
This architectural masterpiece by Messer's Coore & Crenshaw is the most modern on my list. I am profoundly inspired by this course, not only for its great beauty and strategic playing values, but how it was built on such a complicated site (bogs, heavy soils, terrain, forest, dunes, etc.). I had the distinct benefit of walking this property before a single tree was dropped or shovel went in the ground and my impression is that without question, THIS site was absolutely the most challenging of all at Bandon. To see what was ultimately created here is beyond astounding to me… and it checks every single box of what a great golf course should possess - notwithstanding that this is the only course at Bandon that is NOT on the ocean. To me, that makes the feat appreciably greater.
Swinley Forest, England (Berksire)
I absolutely fell in love with this place while studying the works of H.S. Colt during our restoration efforts at Old Elm Club in Chicago. Both share quite a few similarities - and why wouldn't they? But what stands out to me is the shear elegance and balance of the course and surrounding landscape… absolutely pure, but rough around the edges. Colt employed masterful use of scale and proportion - and he was among the very best at that! The course is short by most standards with par of 69, but there's at least seven par-4's over 400 yards. The holes are full of both bold and subtle expressions, they are imminently strategic, full of angles and optional routes, all while making full use of space. An extraordinary golf course (and not surprisingly, so is Old Elm).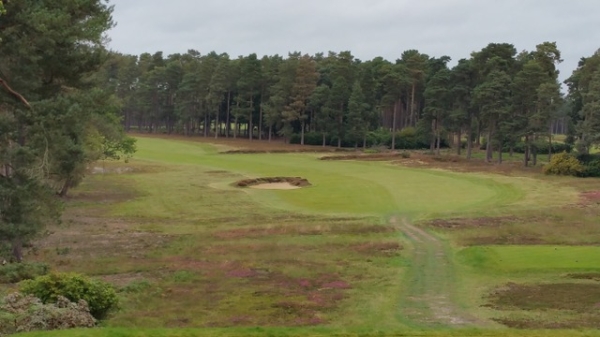 Shoreacres, Chicago
Being in the camp of quirky, I'm almost required to find favor with the works of Seth Raynor. His popularized template holes are versioned across a vast spread of courses around the US and his influence cannot be underestimated. What amazes me about the templates is how effective they can, and have, been employed on so many different sites and in so many varied applications. Shoreacres is simply sublime.. with its hole arrangement, its masterful use of the site's primary ravine and utter avoidance of the bluff looking on to Lake Michigan, literally an earshot from the first tee. So fun, so beautiful (even without the lake view), and absolutely among Raynor's finest.
Eastward Ho!, Massachusetts
This brilliant layout by Herbert Fowler (Walton Heath, Westward Ho!, Cruden Bay, The Berkshire) was recently restored by Keith Foster - and that was sort of a re-awakening of what is truly one of the most breathtaking and scenic golf experiences in the eastern US. Rolling fairways are characteristic here, and that makes for some seriously challenging uneven lies and tricky approach shots, especially when the winds whip off the water. Fowler must have felt at home here, as if he were back in jolly old England… it has that distinctive feel.
Kankakee Elks, Illinois
Until recently, I had only heard odd rumblings of this "off the beaten path" place. But after finally stopping in to see it, I found this Langford & Moreau effort to be completely unique and full of architectural expression like nothing I had ever seen or expected. The greens complexes are beautifully sculpted and the shaped forms on the course produced clever deception of depth and resulting angles and options. The course has been overly/mis-planted with trees - and that has negated some of the obvious fairway alignments and playing lines. But all of that could be very easily remedied if so desired. I only recall three sand bunkers on the course, and it seemed to me that none of the three were worth retaining. So, that tells you what a great job L&M did with their shovel!
The Old Course at St. Andrews, Scotland
Maybe the most famous golf course in the world - and I join many in also finding it to be one of the most perplexing and interesting layouts in existence as well. I would not characterize the Old Course as having uncommon scenic beauty (in comparison to many other links courses), yet I do find the odd, rumpled nature of the ground and the wonderfully open arrangement of holes to be delightfully pleasing to the eye. Perhaps more than any other course in the world, one has to truly study the options and angles here (bearing in mind the ever-changing wind) in order to have great success (or have a great caddie). Yet, losing a golf ball here is almost unthinkable. Where else can one say that? Along with history and lore, there are reversed holes, backwards facing bunkers, double greens, a hotel wall, bunkers named "Hell, The Principal's Nose and The Coffins", the Swilcan burn, the "Valley of Sin" and perhaps the most iconic inward backdrop in golf (the town of St. Andrews). I could go on. But this place is beyond amazing, and it keeps us all scratching our heads while holding still as the measure of all things golf…anywhere.
So, there you have it, my list of ten courses that give me great pleasure to experience, that are uniquely inspiring to me and challenge me… and there are so, so many more. Hard for me to imagine courses like Maidstone, Sunningdale, Cypress Point and National Golf Links aren't among these… but I suppose that gets to the heart of the matter as we make these golf course lists. Great golf is all around us… all types, forms and characteristics… so how are we to assess them except by our own preferences? Thankfully, my bucket list remains quite full… Royal County Down, Rye, Friar's Head, Myopia Hunt Club, Royal Melbourne, Fisher's Island… the list goes on. That's a good thing!