Pine Lake Country Club
---
ORCHARD LAKE, Michigan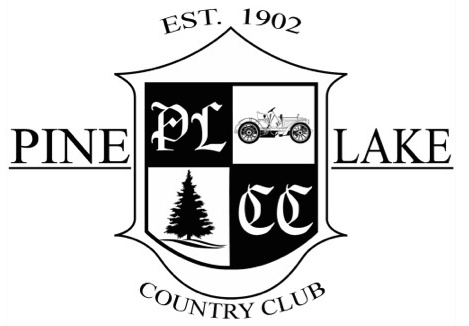 Program for Golf Course Improvements - Completed in 2014
Course Renovation - Scheduled for Summer/Fall of 2023
DESCRIPTION
Pine Lake Country Club has one of the more fascinating historical backgrounds of any private club in the Midwest. Originally founded in 1902, and known then as the Automobile Club of Detroit. A group of like-minded automobile enthusiasts – all icons of Michigan business at the turn of the century, created the club. Henry Ford was actually an original founding member.
According to the Club's official historical accounts, the club sought a permanent home for their club in 1905 and was offered a "very picturesque site" on Pine Lake by then property owners, George and Agnes Hodges. Hodges built the original clubhouse at his expense and leased it to the club for $500 yearly. Of course, in those days the Pine Lake site was considered to be well outside of town – more of a weekend retreat with a scenic bluff overlooking the lake. It was common for members, those who had cars, to venture out to Pine Lake to frolic and camp overnight. Many of the early members were captains of industry, Governors of Michigan, and United States Senators. Among the most well known were Ford, Truman Newberry, Russell Alger, Jr., Henry Joy, John Dodge, Ransom Olds, Ray Chapin, E.P.Hammond, W.C.Hartman and James Couzens.
Though the exact details are still a little hazy, the club's historical records go on to explain that by 1916, roads had improved to such a degree that members had ample time and energy to enjoy a little activity after a pleasant and much shorter drive to the beautiful site. So, by 1917, the first seven holes of golf were in usage and two more were added in 1919 – the work of a busy Scotsman and golf course architect named Willie Park, Jr. In 1921, the name of the club officially changed to Pine Lake Country Club, recognizing the change from an automobile club to a country club spectrum of interests. In 1923, the club retained Ernie Way as its golf professional and to help supervise the construction of the additional nine holes. By 1924, Park had added to the course, making it a complete arrangement of 18 parkland style golf holes. Again, there are varied depictions of this evolution, so we're always interested in locating accurate accounts!
Regardless of all the who's and when's, the course we encountered as our studies ensued was something of a messy concoction. A bit of this and a bit of that and a result that lacks any decipherable consistency or identity. The course has very clearly undergone numerous changes over time and felt influence by more than a few architects (Jerry Matthews, Bruce Matthews, Bill Newcomb, Robert Von Hagge/Bruce Devlin and Craig Schreiner). JDR is now next in-line, working with the club to make improvements and updates to the course, and perhaps most importantly, to redefine its identity. In 2024, the completed course will re-open once again as a completely renovated presentation.
PEDIGREE
Designed originally by Ernie Way and Willie Park, Jr. in 1921-1922 (as best we can identify).
COURSE WEBSITE