Architectual Study Tour
---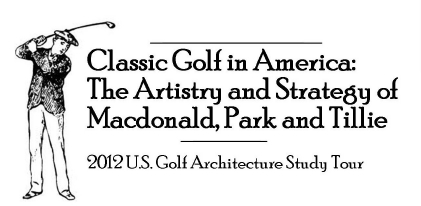 JDR is excited about joining up with a group of fellow ASGCA architects, as well as representatives from the European Institute of Golf Course Architects and the Australian Institute of Golf Course Architects on a U.S. Golf Architecture Study Tour. The trip will take place in early October, visiting hallowed courses on Long Island in New York and also in New Jersey. The closing of the trip will be a visit to USGA's headquarters in Far Hills, NJ.
The Tour will focus on classic American golf course architecture, including the works of Golden Age masters, C.B. Macdonald, Willie Park, Jr. and A.W. Tillinghast.
Also known as "Tillie", Tillinghast took up the game after having his first golf lesson from Old Tom Morris in St. Andrews, Scotland. We'll experience his works at Baltusrol Golf Club (#32 in the US) and the Bethpage Black Course, site of last month's Barclay's Championship (also #36 in the US).
I'm very excited to finally visit C.B. Macdonald's masterpiece, The National Golf Links of America, a next door neighbor to Shinnecock Hills Golf Club. The "National" is ranked #10 in the US by Golf Digest and known for it's "template holes" that would be famously reproduced at great courses throughout the world. And just down the road, another classic, and listed at #93 in the US, the Maidstone Club, designed by Willie Tucker and then refined and expanded by Willie Park, Jr. Park, like many other architects of the era, came from a golfing family and would spend time as a greenkeeper, clubmaker, and champion golfer.
I plan to do a follow-up piece on my blog upon my return from the trip and also daily tweets on Twitter by following @JDRgolfdesign.