MacKenzie Meets Augusta One Last Time (Back Nine Tour)
---
When we last paused, Dr. MacKenzie was on his way to the 10th tee. The spirit amongst the group was strained at best as the architect's criticisms continued to mount.
As the group shuffled down the hill from the tee, MacKenzie referred to the relocated green and uttered, "Now this looks more like Maxwell!"
Indeed, it was Maxwell's hand here, as the green was rebuilt in its current location in 1937. "The refined version is a good test… it is quite reasonable what has been done."
On to #11 now, and it seemed at least momentarily that perhaps MacKenzie had inspired a bit of enthusiastic optimism among his followers…. only to be followed by, "Do they like this one, Mr. Payne? I would think not. So many planted trees, and this awful high grass – the options are gone." Payne caught up to explain that this hole had, similarly to others, undergone what many refer to as Tiger-proofing, whereby holes were necessarily narrowed and lengthened to help protect par. Mackenzie stared at Payne as if he'd lost his mind. "Right… now we're modifying holes to accommodate wild animals, are we?"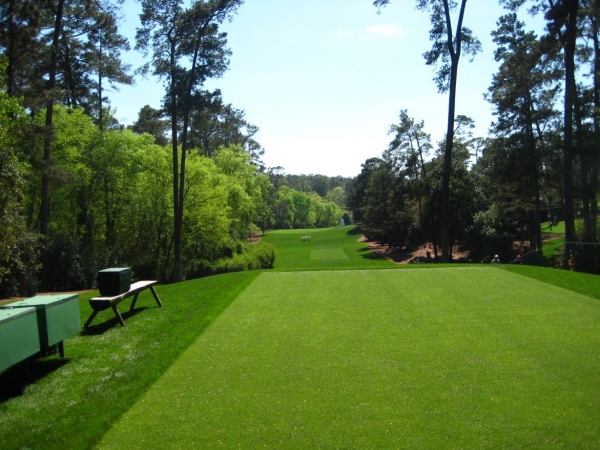 The tight tee shot at the 11th

Dr. MacKenzie had only even heard of Tiger Woods earlier in the day during our preparations for the visit. While he was duly impressed by the golfer's resume, the Good Doctor was clearly intent on using this symbolic name as a way to make his point with Payne.
MacKenzie pushed on, and his reaction at #12 was either disinterest or approval. The group was content to assign the latter!
So onward to #13 tee they stepped, where Payne offered, "We're in negotiations at present to acquire additional land here, from Augusta Country Club, so that we will have the flexibility to lengthen this short par-five. With today's length, players are reaching the green with a mid or short iron. We're looking to lengthen the hole another 25-30 yards." MacKenzie bluntly reacted, "You've all really become quite fascinated with length, have you not? Why has the ball not been tempered? Are we to tear apart every golf course in existence then – make them all longer?"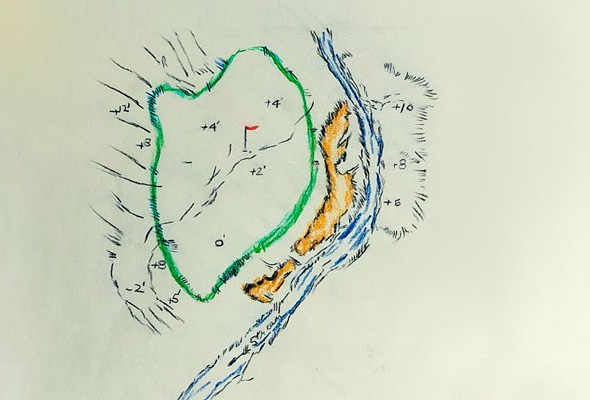 MacKenzies green at the 13th, courtesy of Links Magazine
As they walked around the turn of the 13th fairway, MacKenzie paused, then smirked stearnly, hands on hips, "Roberts changed this… it would have been the finest par four I have ever designed." Payne countered, "I'm aware of that design. I have heard you and Mr. Roberts had some differences of opinion here, and elsewhere." Mackenzie chuckled and said, "With all due respect, Roberts was a bloody annoyance and a meddler! I suspect he had a lot to do with swaying the minds of many here since I left. He had Bobby's ear as well, much to my dismay."
Although the group shared in the muted laughter, MacKenzie became serious again at an instant, "It turns out that my concerns for this course were very real – this I now know."
MacKenzie went on to lecture Payne and Co. that the 13th is still a good hole, even as a par-5, because the routing is so harmonious with the natural features and landscape. But, as he strongly stated, "If it were a four par, possibly one of the best in golf (as I envisioned it), all of this stretching and expense would not likely be necessary, Mr. Payne."
Later, on the 14th, MacKenzie stopped again and turned to the group to ask, "Where have you mined this white sand? I've never seen anything quite like it in Nature, let alone here in Georgia. And I've never seen such perfectly manicured shapes and edges." He waited… no replies. "The bunkers are atrocious – they resemble nothing in Nature and they fall well short of anything that I built here or would ever build. They're intended to be hazardous, hence the word, and occurring of natural form and character. These bunkers are trimmed with scissors and seem more worthy of a beach towel and a glass of champagne! And there's too many of them, now, Mr. Payne. Don't think that I haven't been counting. When we finished here with Mr. Jones, I recall 22 sand bunkers. We must be close to doubling that at this point. And all of the running ground shots have been blocked by this sandy artifice."
Clearly preparing to go into all-out tirade mode, MacKenzie inquires again, "Mr. Payne, please tell me, who are the others that have touched this course since I departed? Payne responds with a long list…. "Perry Maxwell, of course, and Robert Trent Jones, George Cobb (who also designed our par-3 course), Joe Finger, Tom Fazio and a few players like Horton Smith, Gene Sarazen, Ben Hogan, Byron Nelson, Jack Nicklaus and Ray Floyd…All of the adjustments were ultimately directed by the Club," he continued. "Well, now it's clear… you have listened to most everyone who had an opinion at one time or another – when all you had to do was follow the simple vision we originally established together with Mr. Jones, said MacKenzie."
Then they proceeded to #15 with MacKenzie literally stomping in disgust.
"Well, by now, it does not come to my immediate surprise that you have lengthened this hole as well. But why, in the good name of golf, have you planted all of these trees? For the short hitter, it won't likely matter – but for anyone who manages enough length to get down this fairway in some reasonable position, we want to encourage them to have a go at the green. We want them to be tempted, Mr. Payne, for the rope is hanging there for them to place 'round their necks!", continued the Good Doctor, shaking his head and throwing his arms up.
The narrowness you have created here, what with the trees and the longer grass… you're destroying the harmony and continuity of the game, causing a stilted and a cramped style, destroying all freedom of play! Let them play, Mr. Payne, let them play!", pleaded MacKenzie as he stared at Payne for reaction.
Now dismayed and equally angry, Payne shuffles off as if he'd heard enough, and at the same time been scolded by his Father.
Onward the group marched, to the 16th tee. MacKenzie smiled again and shook his head, circling slowly. "You know, Mr. Payne, our inspiration here was the short 7th at Stoke Poges, a hole that I have long fancied. And now, interestingly, I see there's been a reversion to the hole that Mr. Jones and I drew up as an option." Payne agreed, "It was rebuilt to that concept back in 1947. Players felt the older version was not challenging enough."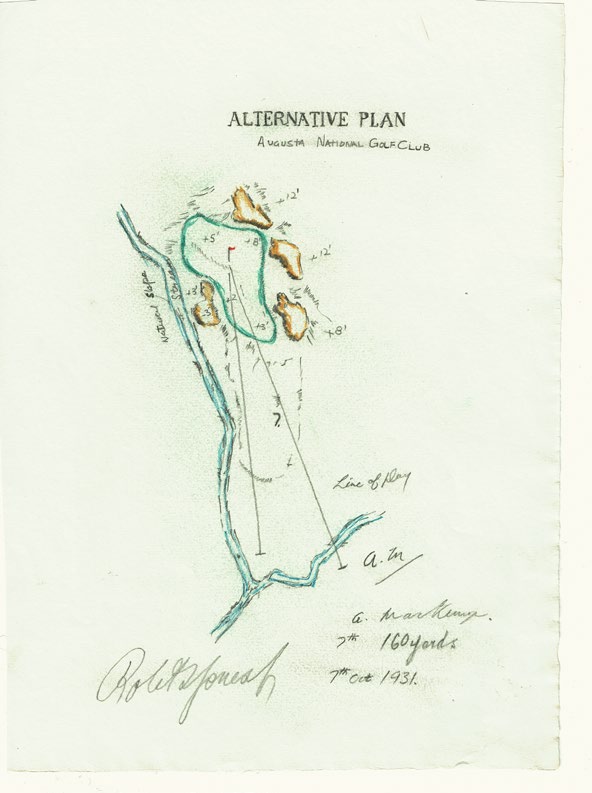 Mac's alternate for the 16th, courtesy of Links Magazine
MacKenzie went on to describe that he had viewed some YouTube footage of past tournaments on #16 on his new iPhone, with my help of course. "I found it all to be quite amazing… to see all the drama that has played out here on this hole. A wonderful hole it has proven to be, Mr. Payne."
Now 16 holes complete in the tour, MacKenzie and Payne are pushing toward the finish. Will there be more drama? Handshakes and hugs? Fried chicken for lunch? Check in for the final post!
Tags
Adjusting Course Length , Alister Mackenzie , Augusta Country Club , Augusta National Golf Club , Australia Golf Courses , Billy Payne , Bobby Jones , Bunker Renovation , Bunkers , C.H. Alison , Classic Courses , Clifford Roberts , Course Design , Course length , Course Rankings , Cypress Point , Design Elements , Drew Rogers , Golden Age of Golf Architecture , Golf and the Landscape , Golf Course Architecture , Golf Course Design Trends , Golf Course Improvements , Golf Course Maintenance , Greens speeds , Growing the Game , H.S. Colt , Hazards in golf , Making Golf More Fun , North American Courses , Old Course - St. Andrews , Perry Maxwell , PGA Tour , Speed of Play , Stoke Poges , Strategic golf , Strategic Options , The Masters , Tournament Golf , USGA , Width and golf ,