American Way Golf Issue
American Airlines In-Flight Magazine
September 2011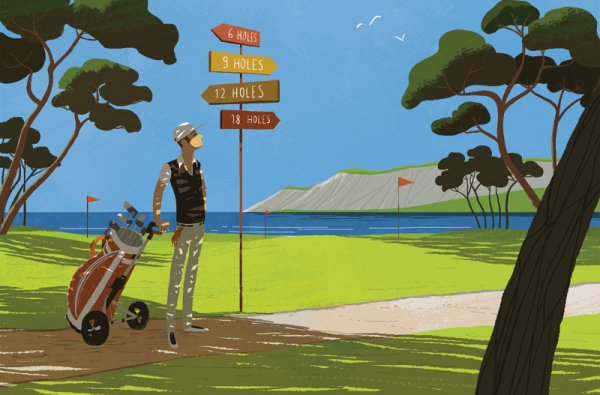 The Long and Short of It
by Larry Olmsted
The latter concept is not a novel idea. Many of the top private clubs in the nation - including Augusta National Golf Club, Pine Valley Golf Club and the Olympic Club - have an additional short course, as does the public Pebble Beach resort. But the idea of stand-alone short courses is new - and somewhat controversial.
"I think three-, five-, six-hole loops are a great idea, but I don't think they work unless they're part of a full 18-hole course," notes Bradley Klein, a respected design critic and the architecture editor at Golfweek. "As freestanding short courses, they require too much upstart and operating capital, and they don't have credibility to the public."

The credibility issue is mainly one of history. People have grown accustomed to course lengths of 18 holes, but this wasn't always the standard. The world's first golf course, the Old Course at St Andrews in Scotland(established in 1552), went through multiple iterations, reaching a peak of 22 holes before ending up with the arbitrary 18 in the late 18th century, just as other courses - which looked to St Andrews as a model - were being built. And Scotland's Prestwick Golf Club, the birthplace of the British Open, had just 12 holes when it held its first Open in 1860. The question is whether perceptions can again be changed.
"We're starting to see movement on this idea in the industry," says Damian Pascuzzo of course-design firm Pascuzzo & Pate Golf Course Design, which in 2008 built the 12-hole Challenge Course alongside the 18-hole offering at Monarch Dunes Golf Club in Nipomo, Calif. "Ten years ago, the American Society of Golf Course Architects had an initiative: Build what you can fit, whether it's six or eight or 12. There doesn't have to be a magic number."
And, as Pascuzzo attests, the shorter courses haven't affected surrounding real estate values either. "At Monarch Dunes, the lots on the Challenge Course command the same price premiums as lots on the championship course," he says.
There is also evidence of golf courses being saved by going shorter. Brandon Tucker, senior writer for WorldGolf.com, cites Toronto's Derrydale, which, after experiencing financial struggles, sold off 33 acres of land in 2005, downsized, and at 12 holes is now thriving. "Some facilities are probably having a harder time making ends meet because the land and water is so costly, so it makes enormous sense to turn a few acres into another revenue stream and keep a shortened area," Tucker says. "A lot of us want to play a few holes after work, so you don't need 18 - just enough to get your fix before sundown."
Tucker also says he sees short courses being helpful in the development of beginners. That's the idea behind a new four-hole course that opened last summer alongside the existing 18 at Vermont's Okemo Valley Golf Club, whose vice president and general manager is PGA of America president Jim Remy. "It is a place where families can get ­acquainted with the game of golf," says head pro Michael Santa Maria. "It provides a fun and relaxed place to learn how to play before venturing onto a regulation course."
While an even dozen holes has been the most popular alternative length up to this point, the options are endless. In the end, says golf architect J. Drew Rogers, ASGCA, all of the shorter courses share the same noble goal: renewing interest in the sport by making it more accessible. "Ultimately, they will help grow the game in ways that traditional courses today are challenged the most," he says. "This is an answer to the call for making our fine game fun again."